High School Students Sail the Great Lakes
By Jennifer Donovan | Published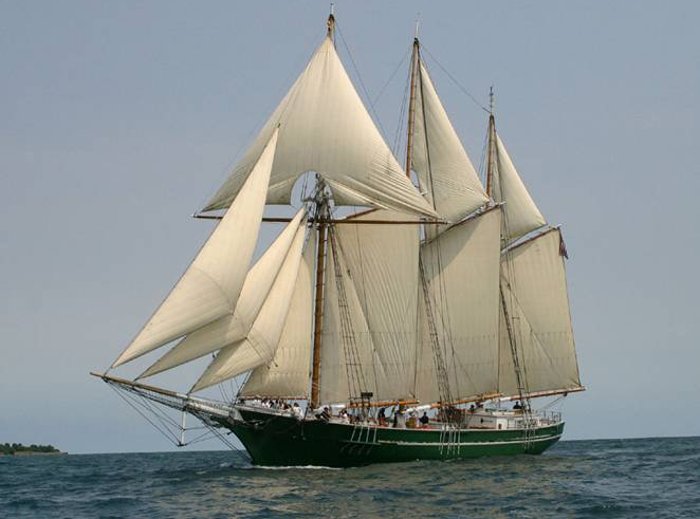 When the classic sailing ships gather in Bay City for the annual Tall Ships Celebration this weekend, high school students from three states will hop aboard the Sailing Vessel Denis Sullivan for an exciting week studying Great Lakes biology. Their adventure is part of Michigan Technological University's annual Summer Youth Programs explorations.
The students will take turns helping to navigate the S/V Denis Sullivan through Lake Huron, said Steve Patchin, director of outreach and engagement for Michigan Tech's Youth Programs. They will also collect water and mud samples from Lake Superior.
The students' trip ends July 24, when the S/V Denis Sullivan—an educational vessel owned by Discovery World, Milwaukee—docks in Houghton, Mich.
Patchin said that the students will analyze the samples they collected from their trip in an environmental engineering lab at Michigan Tech.
Eleven students are registered for the program. They include Arnesia Banks, Chicago, Ill.; Tyler Becker, Clarkston, Mich.; Christopher Davis, Northville, Mich.; Martin Gargaro, Carp Lake, Mich.; Sara Hamilton, Midland, Mich.; Michael Isaacson, Ishpeming, Mich.; Carl Mattson, Plainwell, Mich.; Jack Model, Hartford, Conn.; Amanda Nowicki, Plymouth, Mich.; Keenan Noyes, Lansing, Mich.; and Julia Smith, Hancock, Mich.
Michigan Tech's Summer Youth Programs offer over 70 hands-on career and adventure explorations for students in 6-11 grade. Other unique opportunities being offered this summer include a backpacking trip to Isle Royale, Mich. to study moose and wolf populations, a blacksmithing course where students make their own tools, and a course on 3D computer modeling that culminates in the design, building and testing of catapults, rockets and robotics.
Michigan Technological University is a public research university, home to more than 7,000 students from 54 countries. Founded in 1885, the University offers more than 120 undergraduate and graduate degree programs in science and technology, engineering, forestry, business and economics, health professions, humanities, mathematics, and social sciences. Our campus in Michigan's Upper Peninsula overlooks the Keweenaw Waterway and is just a few miles from Lake Superior.