Faces of Carnival: Women's Basketball Star Finally Makes it to Winter Carnival
By Jennifer Donovan | Published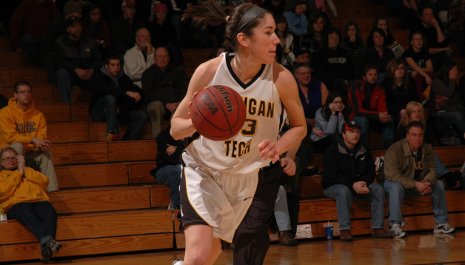 Katie Wysocky has represented Michigan Tech on the basketball floor the last three winters, in locations like San Antonio, Orlando and all over the Midwest. One place she's never been during Winter Carnival week is Houghton.
Due to a quirk in scheduling, Wysocky and the Huskies have spent the last three Winter Carnivals playing road games in the Great Lakes Intercollegiate Athletic Conference (GLIAC). This year, they have home games scheduled, against Tiffin University at 5:30 p.m. Thursday, Feb. 4, and Ashland University at 1:00 p.m. Saturday, Feb. 6. With an 18-1 overall record and a national ranking of number 4, it's not a bad year for Tech to be playing in front of home fans during the traditional winter festival.
Wysocky is ready. "I'm pretty excited to be here and see the statues. I think it's going to be a lot of fun," she said.
With eight regular season games to go in her senior year, the 6-foot-tall forward has already distinguished herself as one of the best players in Michigan Tech women's basketball program history. Her 1,073 career rebounds are far and away the most in school history, and her 1,670 career points are the third most in the Tech record book.
Wysocky was named GLIAC Preseason Player of the Year and currently ranks second among more than 3,000 NCAA Division II basketball players in rebounding, at 11.9 per game. She's already been named GLIAC Player of the Week five times this season.
A year ago, the Whitefish Bay, Wis., native led Michigan Tech to the national tournament quarterfinal at the NCAA Elite Eight in San Antonio. It was just the second time in school history the Huskies had advanced that far.
Wysocky may be as talented and hardworking off the basketball court. She is a stellar student in business administration, with a concentration in finance. Her 3.91 cumulative grade point average and top-notch basketball skills give her a great shot of being named Academic All-American later this year.
Michigan Tech basketball fans are happy to have Wysocky and the Huskies home this week.
"Wysocky has been a fun player to watch over the last four years," said Cager Club president and long-time Huskies fan Bob Gilreath. "It really adds to the excitement of Winter Carnival to have the basketball teams at home, and I hope we get to see them play a lot more before the season's over."
The top teams in the GLIAC and Midwest Region host playoff games. With a little more success this season, Wysocky and the Huskies could find themselves playing more big games in Houghton in March and marching towards another NCAA Elite Eight berth.
Michigan Technological University is a public research university, home to more than 7,000 students from 60 countries. Founded in 1885, the University offers more than 120 undergraduate and graduate degree programs in science and technology, engineering, forestry, business and economics, health professions, humanities, mathematics, and social sciences. Our campus in Michigan's Upper Peninsula overlooks the Keweenaw Waterway and is just a few miles from Lake Superior.