Tech International Grad Student Enrollment Bucks National Trend
By Dennis Walikainen | Published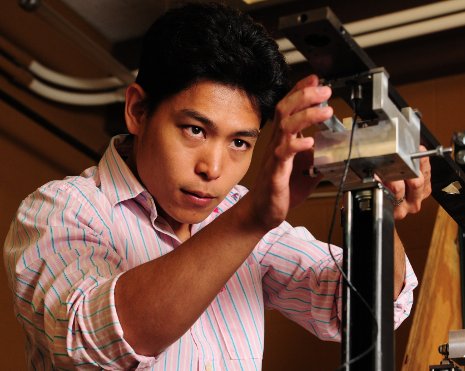 First-time international graduate student enrollment is up 3 percent nationwide this year. At Michigan Tech, it's increased more than 16 percent.
Why is Michigan Tech bucking the trend?
"There are a couple of reasons," says Jacque Smith, director of marketing for Michigan Tech's Graduate School. "First, it has to do with the types and quality of programs we offer."
Many of Michigan Tech's programs are in STEM fields. STEM stands for science, technology, engineering and math. These specialties—which have long been a focus at Michigan Tech, especially in graduate education—are in rapidly growing demand around the world.
Also, interest in Michigan Tech's MBA program is growing, according to recruiters worldwide. The MBA program is offered through the School of Business and Economics.
"Our programs and research are what the world wants," Smith says, and the numbers seem to be proving that point.
The largest gains among first-time international graduate student enrollment nationwide were in the physical and earth sciences, at 9 percent, while engineering rose 3 percent. However, at Michigan Tech, first-time international graduate student enrollment in engineering rose 20.4 percent.
The Council of Graduate Schools, which released the enrollment report, also said that overall (not just first-time) international graduate student enrollment rose only 1 percent nationally in 2010, down from 2 and 3 percent in 2009 and 2008, respectively. During the same time, Tech's overall international graduate student enrollment increased 13.5 percent.
Michigan Tech's growth also bucked a trend among Midwest schools, whose international graduate student enrollment showed no growth overall.
Nationally, the countries contributing the largest number of first-time international grad students were China, with 20 percent, and the Middle East and Turkey with 7 percent. India and South Korea showed 3 percent declines nationwide. At Michigan Tech, however, numbers of first-time international graduate students from India increased 18.5 percent.
"It's a reflection of our global recruiting efforts," Smith says. "For example, our faculty members' research is growing in prominence, and our alumni are making impacts all over the world that help us to recruit students in their home countries."
And when those international students do enroll at Tech, they bring some impressive credentials with them.
According to the Graduate School, international students are often among the top candidates for admission to graduate programs nationwide.
"They bring global perspectives to our campus and community and help our domestic students gain experiences with other cultures," Smith notes. "They also help everyone on campus learn more about what is happening in other parts of the world and how events are viewed by people from different cultures," says Jackie Huntoon, Graduate School dean.
Approximately 45 percent of Michigan Tech's graduate students are from abroad, and India and China make up more than 70 percent of international graduate student enrollment here.
"The international students who come to our campus continue to help the University become better known and respected around the world," Huntoon adds. "They also contribute to economic development, in Michigan and elsewhere, where they help fill corporations' needs for STEM-educated people."
Michigan Technological University is a public research university, home to more than 7,000 students from 54 countries. Founded in 1885, the University offers more than 120 undergraduate and graduate degree programs in science and technology, engineering, forestry, business and economics, health professions, humanities, mathematics, and social sciences. Our campus in Michigan's Upper Peninsula overlooks the Keweenaw Waterway and is just a few miles from Lake Superior.