Tech's Online Power Engineering MS Marks 10th Anniversary
By Marcia Goodrich | Published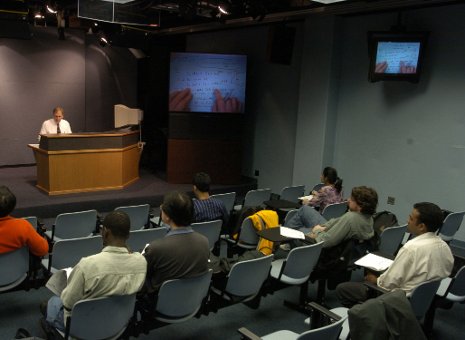 Over a decade ago, a handful of Michigan Technological University faculty got together with representatives from Cooper Power, a major supplier of equipment for the power industry. The company suggested a partnership: Would Tech offer a distance-learning graduate program that could give its engineers greater technological capabilities in power generation, transmission and distribution?
So began Michigan Tech's distance learning MS in Electrical Engineering with a concentration in power systems. From the original four Cooper engineers, the program now enrolls nearly 30 students from all over the US and is the only one of its kind in Michigan.
An additional 25 are earning one of its two certificates in power systems engineering, one for undergraduates and the other for graduate students, also offered online. When undergraduates come to the University to complete their lab component, they enjoy the benefits of state-of-the art facilities, made possible by nearly half a million dollars of support from corporate partners.
The classes are available 24/7 on streaming video, "so our students can go on a business trip and catch up on the weekend," says Associate Dean of Engineering Leonard Bohmann, an architect of the online effort.
The program's strength reflects a renewed awareness of the importance of electrical power, says Bruce Mork, a professor of electrical and computer engineering and director of Michigan Tech's Power and Energy Research Center.
"Energy has become a national security issue," he says. "It's more important than ever to have infrastructure that is robust and reliable."
"We saw a need for something like this way back when we started the program," Professor Dennis Wiitanen remembers. "But we didn't realize it was going to be so big. Energy is becoming popular again, and we were almost accidentally well positioned for it."
The power industry is undergoing a technological revival, which has accelerated demand for power engineers. "We had about 12 years of Enron-type priorities, when focus was on energy marketing rather than the actual engineering and new technologies," Mork said. "In hindsight, we could raise an eyebrow at that. It was assumed the infrastructure was mature and developed, and all we had to do was maintain it.
"The US is now playing catchup in R&D," he said. The power industry is scrambling to adopt "smart grid" technologies that conserve energy and provide wide area protection and control to improve grid reliability, plus adding new, renewable energy sources to the power-generation mix.
"Companies need competent engineers to design these systems, especially with the smart grid technologies that are coming along," said Mork. "Our graduates have those core competencies; they know how to design and apply those technologies."
Classes are available on streaming video, a virtual necessity for online students who are typically full-time engineers and need the flexibility to view lectures when it works for their schedule.
The program can open doors for its graduates. Tom Ernst, a supervising engineer with Minnesota Power in Duluth, initially enrolled to fill in some technical gaps in his education. Having finished his MS in 2008, he now plans to use his degree in the classroom. "It has opened up more opportunities, especially at the community college level," he says.
"It's a great program," Ernst added. "It provides an opportunity for people who want to continue their education in this field, and not all universities offer power engineering."
It took Ernst several years to complete his MS while he worked full time. Students now have other options, including just taking a class or two or pursuing a certificate.
The new certificates in power systems was developed in cooperation with American Electric Power, which provides electricity to 11 million customers in five states. "Like the MS, it grew out of workforce needs of our industry partners," Mork said. "It was a natural step for us."
For more information on Michigan Tech's online programs in power systems engineering, contact Mork at bamork@mtu.edu .
Michigan Technological University is a public research university, home to more than 7,000 students from 54 countries. Founded in 1885, the University offers more than 120 undergraduate and graduate degree programs in science and technology, engineering, forestry, business and economics, health professions, humanities, mathematics, and social sciences. Our campus in Michigan's Upper Peninsula overlooks the Keweenaw Waterway and is just a few miles from Lake Superior.