Waterlife - a Great Lakes Film Epic - Coming to Michigan Tech Sept. 9
By Jennifer Donovan | Published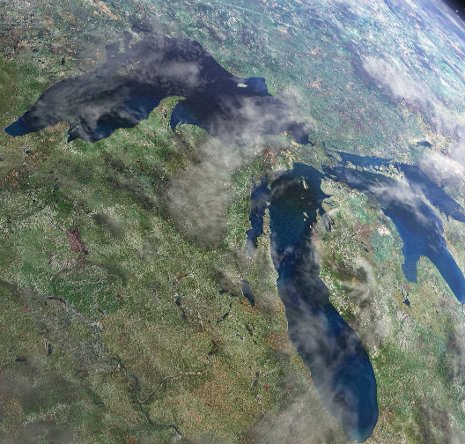 The Great Lakes are many things: bodies of water, sources of life, a story and a poem. "Waterlife," a film that follows the flow of the water in the Great Lakes from the Nipigon River to the Atlantic Ocean, captures the significance of the Great Lakes and the Great Lakes ecosystem in a compelling, feature-length documentary.
Michigan Tech's Center for Water and Society is sponsoring a free showing of the film at 7 pm Wednesday, Sept. 9, in the Dow Environmental Sciences and Engineering Building, Room 641. It has only been shown once before in Michigan, at the Traverse City Film Festival.
The public is welcome to attend the showing, whether or not they are affiliated with Michigan Tech.
Using both documentary footage and computer imaging, "Waterlife" begins in the primeval forests of Lake Superior's north coast, makes a stop at the baroque fountains of Chicago on Lake Michigan, continues to the rain-swept streets of Detroit and beyond, all the while examining how the greatest body of fresh water on Earth transforms the societies it passes through and is transformed by them.
"The film's goal is to take viewers on a tour of an incredibly beautiful ecosystem that is facing complex challenges," say the filmmakers. "Beyond that, our hope is that 'Waterlife' will bring viewers a visceral understanding of the element that is so integral to all of our lives."
Narrated by Gord Downie of The Tragically Hip, the film features music by Sam Roberts, Sufjan Stevens, Sigur Ros, Robbie Robertson and Brian Eno.
Michigan Technological University is a leading public research university, conducting research, developing new technologies and preparing students to create the future for a prosperous and sustainable world. Michigan Tech offers more than 130 undergraduate and graduate degree programs in engineering, forestry and environmental sciences, computing, technology, business and economics, natural and physical sciences, arts, humanities and social sciences.
Michigan Technological University is a public research university, home to more than 7,000 students from 54 countries. Founded in 1885, the University offers more than 120 undergraduate and graduate degree programs in science and technology, engineering, forestry, business and economics, health professions, humanities, mathematics, and social sciences. Our campus in Michigan's Upper Peninsula overlooks the Keweenaw Waterway and is just a few miles from Lake Superior.