Chili Chefs Square Off Over Beans and Meat
Last Modified 2:08 PM, August 10, 2009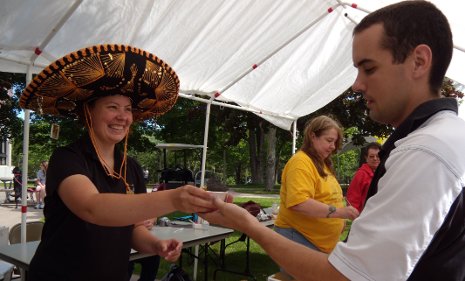 Kristin Beck, Sponsored Programs, gives Matt McCormick, Career Center/Alumni Relations, a taste of Relampago Blanco.
August 10, 2009—
It's hot enough that your tastebuds will yell "timber," claimed Amy Sikkila, of the School of Forest Resources and Environmental Science (SFRES), of her Chainsaw Chicken Chili.
Apparently the chili-eating public and the experts agreed with her. The School's Chainsaw Chicken Chili took first place in both the People's Choice Awards and the Experts Honors at the 2009 Chili Cook-Off during Alumni Reunion Friday.
Relampago Blanco--which its creator, Carole Noonan of Accounting Services, translated as "white lightening"--came in second in both the People's Choice and Experts votes. It was a turkey chili with slightly crunchy white beans and a blend of spices that Noonan and her co-cooker, Kristin Beck of Sponsored Programs, absolutely refused to reveal.
Another SFRES entry, Lumberjack Chili, took third place in both popular and expert votes. A creation of Kerry Price and Susie Rajala, it was the only traditional, red-bean and ground-beef chili in the cook-off this year.
The cook-off attracted its share of dissenters, however. "They're all tasty, all different," said Kip Decker, a 1979 alumnus in chemical engineering. "But I have to say I liked the traditional one the best."
Each vote cost $1, which visitors traded for a small cup of chili and a plastic spoon. The proceeds go to each winner's department to be used for scholarships or other good causes.
Michigan Technological University (www.mtu.edu) is a leading public research university developing new technologies and preparing students to create the future for a prosperous and sustainable world. Michigan Tech offers more than 120 undergraduate and graduate degree programs in engineering; forest resources; computing; technology; business; economics; natural, physical and environmental sciences; arts; humanities; and social sciences.