Tech Students Take Alternative Spring Breaks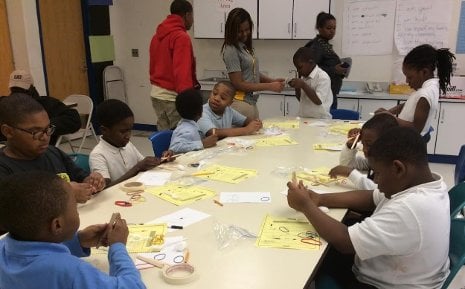 For many college students, Spring Break involves exotic beaches, rowdy parties and club-filled nights with several thousand brand new friends. For others, the perfect Spring Break involves sleeping till noon and binge-watching Netflix.
But at Michigan Technological University, many students crave a bit more adventure or gravitate toward activities that seek a higher purpose. For these students, Alternative Spring Breaks combine spending time away from campus with a little something extraordinary.
Outdoor Adventures
This year Tech's Outdoor Adventure Programs (OAP) is offering two different "Adventure Spring Breaks:" Southbound Experience and Yosemite Valley Experience.
The majority of the Southbound Experience takes place in Orange Beach, Alabama. Orange Beach, nestled between Gulf Shores, Alabama to the west and Perdido Key, Florida to the east, offers snorkeling in the Gulf of Mexico. In addition, the group will be go-karting, kayaking, spelunking, hiking and beach bumming. They'll go on a sunset cruise and stop at Mammoth Cave and the Red River Gorge either on the way to or from Orange Beach.
Jared Johnson, assistant director of Student Leadership and Involvement, oversees OAP. He says the Adventure Spring Breaks offer an alternative to more traditional break options.
"We choose locations that aren't your typical spring break locales, and then we set up a lot of activities and adventures."
As the name implies, the Yosemite Valley Experience is focused on the California National Park. "They'll set up their base camp in Yosemite," Johnson says. "And there'll be some great adventures like hiking, skiing, snowshoeing, ice skating, rock climbing and just soaking in the Yosemite Valley culture."
National Society of Black Engineers
While some students travel for adventure, others are doing so for the greater good. Once again, in collaboration with the Detroit Public Schools, the Michigan Tech Chapter of the National Society of Black Engineers (NSBE) is traveling to the Motor City to offer free Family Engineering Nights at K-8 schools and engineering presentations at high schools during the day.
Mechanical Engineering graduate student Yomi Famuyiwa of Tech's NSBE chapter says the plan is to visit two high schools and one K-8 school each day from March 7 through March 9. "Our trip is sponsored by John Deere, and we have also coordinated with Marathon to co-host one of the Family Engineering Nights," Famuyiwa says.
He says Family Engineering Nights give students and their parents the chance to experience common engineering problems and encourage them to develop creative solutions as a team.
"The engineering presentations at the high schools are tailored to inform the students about the potential career paths in Science, Technology, Engineering and Math (STEM) fields," Famuyiwa explains.. "Our plan is to encourage the students to attend college and ideally pursue STEM majors."
Famuyiwa says he enjoys the alternative spring break experience "because of the impact we can have on the students. It's one thing for the students to be encouraged by their teachers to consider engineering or going to college. It's another for minority college students who are actually studying engineering to take the time to come down to speak with the students about it. The students see real-life proof that anything they set their minds to is possible."
Mind Trekkers
Spreading the joy of STEM is also the goal of Michigan Tech's nationally-known Mind Trekkers as they travel deep in the heart of Texas over break. The Center for Pre-college Outreach is sending 50 students to San Jacinto College in the Houston suburb of Pasedena, Texas, to put on a two-day science and engineering festival. Amanda McConnon, assistant director of the Center for Pre-college Outreach, says the group plans on reaching an estimated 6,000 students over the course of the festival.
Tori Keerl, Mind Trekkers vice president of archives, says Mind Trekkers offers a unique opportunity for Michigan Tech students to not only travel to new places with current friends, but to make new friends while sharing a passion for STEM with youth. "It never gets old to see a middle-school student's face light up and smile when they understand the science behind these amazing demonstrations," Keerl says.
"That is what makes volunteering over spring break so worth it. You know you are sparking their interest in learning again and possibly making a difference in that child's future career path."
McConnon says the trip won't be all work. "We have many activities for our students including a trampoline park, basketball games, a rodeo, a trip to NASA, team dinners and the Kemah Boardwalk Amusement Park in Kemah, Texas."
Habitat for Humanity
Also heading toward warmer climes are several members of the Michigan Tech Chapter of Habitat for Humanity. They will spend break in Wilmington, North Carolina, to work with the Cape Fear Habitat affiliate. Tech chapter president Cody Rietveld has been working for Habitat for Humanity over spring break since 2012.
"I feel that it is incredibly important to devote one's time to the betterment of others," Rietveld says. "Traditional spring break trips may be riotous and fun, but not so well rounded. Being able to submerse oneself into helping build a home for someone in need in an entirely different culture is incredibly fulfilling."
That said, Rietveld acknowledges the Tech group has "our fair share of fun on these trips."
The students will spend six to seven hours a day working, but afterward they're on their own, to pursue sightseeing, shopping and dining experiences in a new city.
So while many students will spend their spring break soaking up sunshine, and whatever else is available, some forward-thinking Huskies will be spend their time on Alternative Spring Breaks, making themselves, and the world, better because of it.
Michigan Technological University is a public research university founded in 1885 in Houghton, Michigan, and is home to more than 7,000 students from 55 countries around the world. Consistently ranked among the best universities in the country for return on investment, the University offers more than 125 undergraduate and graduate degree programs in science and technology, engineering, computing, forestry, business and economics, health professions, humanities, mathematics, social sciences, and the arts. The rural campus is situated just miles from Lake Superior in Michigan's Upper Peninsula, offering year-round opportunities for outdoor adventure.