Spiraling Up with Arts and Sustainability in Calumet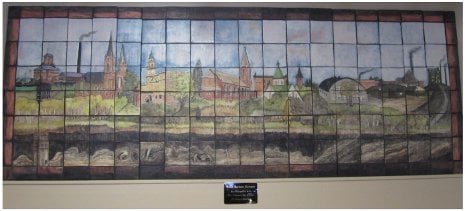 A study published this week in Sustainability explores the possibility for the arts to help sustain a shrunken industrial city in Michigan's Upper Peninsula. Community identity is a key part, and anyone who has walked down 5th Street in Calumet knows the weight of history and change.
"Arts won't solve all the problems, but it's something that can help under the right conditions," says Richelle Winkler, a sociologist at Michigan Technological University who specializes in rural community development, population and environment. She led the research along with Calumet area community members and several Michigan Tech students. "The case study in Calumet shows that the arts can help to revitalize small remote communities by increasing community pride, providing spaces for people to gather informally and attracting people to the community."
She adds that the most heartfelt part of doing the project has been the relationships formed between the academic team and Calumet residents. Seeing everyone come together to ask questions, collect data and understand patterns has been rewarding.
"I can't say enough about the value of the contributions from Lorri Oikarinen, a community member and business owner in Calumet," Winkler says, adding that many more people in Calumet answered questions and helped the project in numerous ways. "The students' vision of Calumet really changed over the course of this project; several had never been there before we started, and now several of them visit regularly and bring their friends. They feel a real bond with Calumet now."
The team looked at several dimensions of sustainability—social, economic, environmental, cultural, political, human capital and built infrastructure. While Calumet lost more than 80 percent of its population since 1910 and faces many economic and infrastructure challenges, the team noticed an up-spiraling trend of social sustainability thanks to a thriving arts community. They also point out that low rent, less gentrification and access to creative space helps sustain artists. Economically, art-based development looks to be helping some, but it's not enough to alleviate the high poverty rates or provide livable wages for many.
The paper is freely available online at http://www.mdpi.com/2071-1050/8/3/284/html.
Michigan Technological University is a public research university, home to more than 7,000 students from 54 countries. Founded in 1885, the University offers more than 120 undergraduate and graduate degree programs in science and technology, engineering, forestry, business and economics, health professions, humanities, mathematics, and social sciences. Our campus in Michigan's Upper Peninsula overlooks the Keweenaw Waterway and is just a few miles from Lake Superior.