Michigan Tech Reveals New Logo at Launch of Rebranding Campaign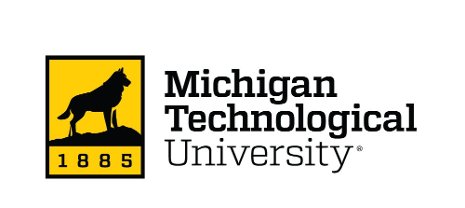 It's a dog—the bronze Blizzard that stands proudly in the center of campus. It's a date—1885—Michigan Tech's birthday. It's a familiar name: Michigan Technological University.
After more than 130 years, today Michigan Tech rolled out its first cohesive, University-wide brand. The new brand includes a new logo, unveiled at a brief ceremony on Friday, February 26, in the Van Pelt and Opie Library.
After giving a brief history of the past 18 months of work that went into developing the new brand and the logo that represents it, President Glenn Mroz unfurled a gigantic banner with the new logo on it. The banner will hang in the library for the next 18 months as the new brand spreads across campus, Michigan and the world..
President Mroz talked about the reasons for the rebranding and what it means for Michigan Tech.
What Makes Michigan Tech Special
"We want to give our audiences a better sense of who Michigan Tech is, of the thing that makes Michigan Tech so special," he explained. "We wanted something that embodies our proud past, with an eager eye to the future."
A task force representing faculty, administrators, alumni and students conducted extensive research before settling on the new logo. The thinking behind the new mark is this:
The Husky statue has become the center of campus, a gathering place and a symbol of Michigan Tech.
Alumni identify themselves as "Huskies."
The date 1885 is important to let people know that Tech is a real university that has been around for more than 130 years, not a new kid on the block nor a technical school.
The rebranding is more than a logo change," Mroz emphasized. It will include a consistent set of visuals and messages that communicate the essential identity of the University.
Stories of Tech
"It will be the stories we tell about the great people of Michigan Tech, the visual representation of those stories and the stories themselves," he said.
An entire suite of logos and instructions for using them is being developed and will be available on the Michigan Tech website.
Athletics will be releasing a new spirit mark in coming months as well.
It will take 18 months for the full brand roll-out, as academic and administrative departments, colleges and schools incorporate it into their internal and external communications. Admissions, Alumni Relations and the University Bookstore will be the first three areas to switch over to the new brand, because they serve external audiences.
University Marketing and Communications, which is spearheading the roll-out, will encourage other departments to become early adopters and will provide a task force to work with every department to find out what tools they need and how UMC can help.
Michigan Technological University is a public research university, home to more than 7,000 students from 54 countries. Founded in 1885, the University offers more than 120 undergraduate and graduate degree programs in science and technology, engineering, forestry, business and economics, health professions, humanities, mathematics, and social sciences. Our campus in Michigan's Upper Peninsula overlooks the Keweenaw Waterway and is just a few miles from Lake Superior.