Enrollment is Rising at Michigan Tech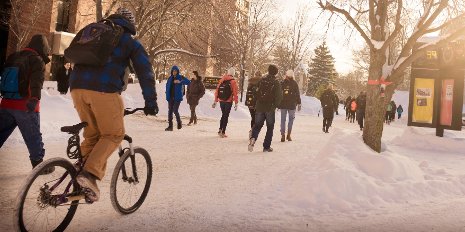 At its regular meeting on Friday, February 26, 2016, Michigan Technological University's Board of Trustees learned that this semester's undergraduate and graduate enrollment is higher than it was in spring 2015.
Total enrollment is up 2.2 percent, to 6,777 compared to 6,631 in spring 2015. Undergraduate enrollment rose 1.5 percent, to 5,331 this spring compared to 5,251 at this time last year, and graduate enrollment increased 4.8 percent, to 1,446, compared to 1,380 in spring 2015.
Undergraduate applications for next fall also are up to 5,759 compared to 5,563 at this time last year, a 3.5 percent increase.
Silver Medal
The Board awarded its Silver Medal to Russell Gronevelt, a member of the President's Advancement Council at Michigan Tech. Gronevelt, a Tech alumnus in Civil Engineering, has been extremely active with the University. He is a past member of the Board of Trustees, the Michigan Tech Fund Board of Trustees and Board of Directors, the Michigan Tech Entrepreneurial Support Corporation and the Civil and Environmental Engineering Professional Advisory Committee. He received the University's Outstanding Service Award in 2011.
The Silver Medal is presented to persons who, through personal and professional achievement, are outstanding examples to Michigan Tech's more recent graduates.
Gronevelt was president of Orchard Hiltz & McCliment from 1999 to 2008. Prior to that, he served as assistant county executive for Wayne County.
In other business, the Board:
Approved emeritus rank for R. Eugene Klippel, retired dean of the School of Business and Economics; Gregory Graman, professor in the School of Business and Economics; and Barry Solomon, professor in the Department of Social Sciences.
Approved revisions to the campus traffic regulations.
Heard a report from Dave Reed, vice president for research, highlighting an increase in of $1 million in research expenditures compared to fiscal 2015 and a 13 percent increase in gross royalties over the past fiscal year.
Heard reports from the Board treasurer, the University Senate, the Undergraduate Student Government and the Graduate Student Government.
Michigan Technological University is a public research university founded in 1885 in Houghton, Michigan, and is home to more than 7,000 students from 55 countries around the world. Consistently ranked among the best universities in the country for return on investment, the University offers more than 125 undergraduate and graduate degree programs in science and technology, engineering, computing, forestry, business and economics, health professions, humanities, mathematics, social sciences, and the arts. The rural campus is situated just miles from Lake Superior in Michigan's Upper Peninsula, offering year-round opportunities for outdoor adventure.