Tech Alumnus Helps Create Award-winning Video Game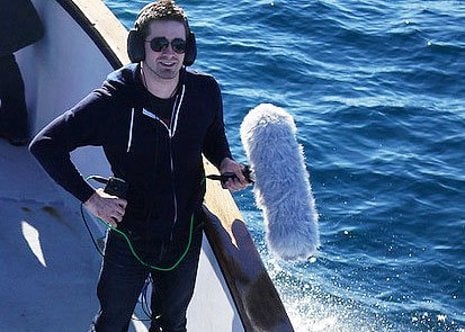 In December of 2014, Steve Green was set to graduate from Michigan Technological University's Visual and Performing Arts Department. Armed with a degree in sound design, he knew he had a good job waiting for him just a few weeks and 1,800 miles away. What he didn't know was that the coming year would not only be exciting and rewarding for him, but for the world he was entering, the world of video gaming.
In January of 2015, Green began working with Giant Squid Studios, a small innovative company in Santa Monica, California, founded by Matt Nava, the art director behind the award-winning games "Flower" and "Journey."
"They waited for me to graduate," Green says. "I didn't know anyone in the company at the time I reached out to them, but I was incredibly interested in the work they were doing, the origin of the company, and I wanted to be part of it."
That part, as it turned out, was to serve as sound director for one of the most highly anticipated games of 2016, "ABZÛ." The game, which derives its name from Mesopotamian meaning "to know water," is slated for release on PS4 and PC later this year. It is an underwater exploration game that has already received numerous awards and honors, even though it has yet to be released to the public.
"ABZÛ" has been named Best Indie Game and Best Soundtrack, by ArabNerds.com, Best Indie Game by Play Station Universe, Best of E3 by PC Gamer and Polygon Editor's Choice for E3 Game of 2015. Green was chosen to accept Epic Games "Everything is Awesome" award on behalf of ABZÛ and Giant Squid.
For his first job at Giant Squid, Green was tasked with designing the sound for a game that takes place entirely underwater. He called the challenges "endless, coming from every angle."
"First and foremost is creating this water world without continuously reminding the player they are under water, with constant bubbling, respirator breathing and skewed underwater hearing. The trick is keeping the unique underwater ambiance," Green says.
Using creativity, Green was able to create some unconventional sounds using everyday objects. For example, he says, "For ABZÛ, I made dolphin calls by rubbing my thumb on a wet ceramic plate."
Other challenges included keeping a totally foreign world inviting but unpredictable and new at the same time. "Many of us have a certain fear of what lies far below the surface," Green points out. "Keeping the experience far from what we know, yet also encouraging exploration was a huge day-to-day challenge," he says.
Green says he was able to face and overcome those challenges due in large part to his Michigan Tech education and the mentorship of Associate Professor Christopher Plummer.
"Michigan Tech and Chris Plummer in particular helped me out immensely in getting into doing the work I love," Green says. "Chris drives his students to think outside the box and allows full creative freedom in what he teaches."
That freedom, Green says, helped in his work on "ABZÛ" because so much of what he did was unprecedented in the world of gaming. "Since game audio is not explicitly taught at Michigan Tech, Chris allowed me to work on some video game-based projects in place of my normal curriculum," he explains.
Green says those experiences came to benefit his video game career. "Without Professor Plummer, I wouldn't have been able to gain the video game experience I needed to find my job with Giant Squid."
Plummer says Green took the initiative to fill the gaps between the Tech curriculum and his video game ambitions. "Steve worked hard to bridge his coursework and the profession," he says. "He contacted several groups that had initiated Kickstarter projects developing new video games and was able to work with these teams on sound design over the Internet."
Those early projects provided Green with contacts and portfolio material as he searched for jobs, according to Plummer.
While Green was able to pursue his passion for video game sound production at Michigan Tech, Plummer says the sound design program that he developed here can benefit students regardless of their professional inclinations.
"Michigan Tech sound programs work on developing the professional habits and foundational skills for students to succeed in many different industries," Plummer explains. "We start students with hands-on creative work their first semester so they have significant practice in their craft early in their studies, allowing them to be successful at the sort of external collaborations they might find as juniors and seniors."
Plummer says these collaborations can be even more difficult than traditional internships because they often involve working with game designers, film directors and other visually-oriented people who may have a strong vision but little understanding of sound. "This requires the student to bring a level of proficiency to the discussion usually not required in entry-level positions where students work with experts in their field," Plummer says.
Michigan Tech's Enterprise program, Husky Games, also gave Green experience he needed outside of the classroom.
"Husky Games was a pretty great place to mainly learn the dynamics of the game-making process and what members of a team are responsible for," Green says. "It allowed for some great hands-on experience with source control and the programming aspect of game development."
Plummer says the combination of class work and Enterprise opportunities prepare motivated students for a variety of industries. "We keep looking for opportunities to expose students to video game and film experiences," Plummer says. "The Husky Games Enterprise continues to provide valuable experiences and student support. The process of finding and working with collaborators outside of Michigan Tech continues to be essential to students' success and develops skills students need to network and continue to develop their career after graduation."
Plummer says Green's motivation made his job as professor a bit easier. "Steven knew what he wanted to do. All I had to do as his instructor is point him in the right direction and provide feedback on refining his work."
That combination seems to have paid off, according to a giant in the world of video game music who says that even though Green was just out of college, he entered the arena with the poise of a seasoned pro.
Grammy-nominated composer Austin Wintory has written scores for 300 films and video games, including the games "FlOw" and "Journey" and the Sundance-Award winning film "Captain Abu Raed."
Working with Green was "a dream," says Wintory. "He has sailed into what was surely his biggest, most ambitious project to date with the ease of a total pro. I tend to be very protective of how my music is handled in a game, particularly something so personal as ABZÛ, and Steve has done nothing but give me confidence."
Wintory says very few sound designers are as musically creative as Green and open to exploring what he calls "novel ideas" and finding ways to make them work. "'Novel ideas' is my code word for my hare-brained schemes that are often just simply bad ideas," Wintory explains.
While the accolades keep piling up for his first "real world" project, Green believes "ABZÛ" is just the beginning of a long and fruitful collaboration.
"Life is full of ups and downs and unpredictable turns. I never expected to be working on such a cool game with such a fantastic team of developers straight out of Tech," he says. "For the foreseeable future, I'll be with Giant Squid working on incredible experiences."
Michigan Technological University is a public research university founded in 1885 in Houghton, Michigan, and is home to more than 7,000 students from 55 countries around the world. Consistently ranked among the best universities in the country for return on investment, Michigan's flagship technological university offers more than 120 undergraduate and graduate degree programs in science and technology, engineering, computing, forestry, business and economics, health professions, humanities, mathematics, social sciences, and the arts. The rural campus is situated just miles from Lake Superior in Michigan's Upper Peninsula, offering year-round opportunities for outdoor adventure.