Grad Student Shares Western Health Info with Central Asian Republic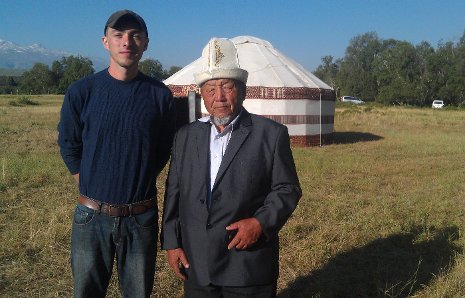 Michigan Tech has a worldwide footprint. Whether it is where students or faculty come from, where they have traveled or where they have worked, Tech has made an impact on the world and continues to do so. Take Cole Bedford, a Peace Corps Master's International (PCMI) program graduate student in civil engineering at Michigan Tech, now serving as a Peace Corps volunteer in the Kyrgyz Republic.
The Kyrgyz Republic, unofficially known as Kyrgyzstan, is located in Central Asia. It bordered by Kazakhstan to the north, Uzbekistan to the west, Tajikistan to the southwest and China to the east.
Kyrgyz Republic
"The Kyrgyz Republic is not where I had imagined myself serving," Bedford admits. After being barred from traveling to tropical locations due to the Peace Corps' extremely rigorous medical requirements, Bedford had to turn down an invitation to Peru. Instead, he accepted an invitation to the Kyrgyz Republic. "I was originally pretty disappointed by the concessions I felt I would be making by accepting a post here, but now that I've been in Kyrgyz Republic for six months —having experienced the generosity and enthusiasm of the people, the richness of the culture, and the awesomeness of the landscapes — there's nowhere I'd rather be."
Bedford is from Sturgis, South Dakota and earned a bachelor's degree in civil engineering from South Dakota School of Mines and Technology in 2013. "I had wanted to be a Peace Corps volunteer since I was a kid and always planned on joining immediately after finishing my bachelor's degree," says Bedford. "As I worked my way through undergrad, though, it became more and more clear that the kind of work I imagined myself doing 10 or 15 years down the road would require a master's degree."
That meant Bedford was faced with two unappealing options for himself: either complete his master's first and then join the Peace Corps, or leave for the Peace Corps and then have to come back to a classroom afterwards. Then, he discovered the PCMI program.
Peace Corps Master's International
"As obvious as PCMI was the right program for me, Michigan Tech was the place to do it was even more so," says Bedford. "Tech's program is one of the oldest, the largest, and, to my mind at least, far and away the best. The faculty has experience doing just the kind of international development work that I hope to do myself. That Tech is small technical school so much like my alma mater is just icing on the cake."
Michigan Tech offers PCMI programs in 10 departments. PCMI students combine a master's degree with Peace Corps service. Michigan Tech has more students actively serving in the Peace Corps than any other campus in the country, and Tech students have served in 52 countries around the world.
For his first three months in the Kyrgyz Republic, Bedford lived with a host family to learn the language and integrate into the local culture. Bedford found that language is his largest challenge. "I'm sure that language will be challenge for the duration of my service," he says, "but, I'm always working on it, and it gets better every day."
After the introductory period, he was sworn into service and began his community work, which he'll be doing for two years. He is now a health extension volunteer, living and working in the community to raise awareness about the need for health education. Along with community leaders and peer educators, Bedford teaches families and youth about basic nutrition and sanitation, prevention of noncommunicable diseases, reproductive health, and prevention of AIDS and other sexually transmitted diseases.
Peace Corps Goals
Bedford hopes to accomplish the Peace Corps' three goals while overseas:
To help the people of interested countries in meeting their need for trained men and women.
To help promote a better understanding of Americans on the part of the peoples served.
To promote a better understanding of other peoples on the part of Americans.
He wants to be a part of helping communities to recognize their own ability to maintain and develop water distribution infrastructure, much of which has been largely neglected since the republic's independence from the Soviet Union.
"The Kyrgyz people are extremely capable, and I'm certain that with the right resources and technical knowledge, there is no positive change that they can't make," says Bedford. He also wants to show that as an American, he really isn't all that different from them, and he wants to share with his friends and family back home that the people in the Kyrgyz Republic are similar to them too.
"The most rewarding moments are those spent connecting with the people in my community, Bedford says. "It's quite a thing to find common ground with someone whose background —culturally, geographically, linguistically — is so radically different from my own and then to build a friendship upon it."
After the Peace Corps, Bedford hopes to work on small-scale civil projects in little towns and help create real, tangible, positive change in those communities.
Michigan Technological University is a public research university founded in 1885 in Houghton, Michigan, and is home to more than 7,000 students from 55 countries around the world. Consistently ranked among the best universities in the country for return on investment, the University offers more than 125 undergraduate and graduate degree programs in science and technology, engineering, computing, forestry, business and economics, health professions, humanities, mathematics, social sciences, and the arts. The rural campus is situated just miles from Lake Superior in Michigan's Upper Peninsula, offering year-round opportunities for outdoor adventure.