Three C Goes 3-D: Enterprise Team's Recycling Plan Earns Ford College Community Challenge Award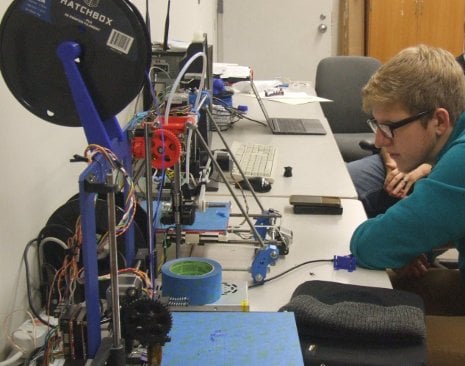 "It's an octopus," explains Open Source Hardware Enterprise team member Ian Peoples, holding up a previously finished model as the 3-D nozzle continues to lay down heated plastic filament in precise, fractional increments. Fellow team member Lucas Wilder proffers a blue bust of Yoda, further evidence of how 3-D printer stock, fed wirelike from spools, builds layer upon layer to create three-dimensional objects.
The Open Source Hardware Enterprise team members are using filament made from relatively uncommon poly-lactic acid (PLA) plastic. A one-kilogram reel runs about $30. But now, thanks to a $25,000 Ford College Community Challenge (Ford C3) grant there may soon be cheaper, more readily available printer filament on campus and in the community. Wilder, Peoples and fellow team members Andrew Schaub and Peter Gorecki are using the grant to incorporate local recycling initiatives into the mix.
Or to put it in Yodaspeak: "Turn water bottles into 3-D printer filament, the grant will."
Ford College Community Challenge Grant
Ford C3 grants from the Ford Motor Company Fund, the philanthropic arm of Ford Motor Company, center on projects that bring to life the theme "Building Sustainable Communities." In its eighth year, the US program is awarding $250,000 for student-led projects that address urgent community needs in ways that are practical and possible to continue and build upon in years to come.
The Enterprise team's winning plan: build a waste shredder, refine an existing RecycleBot to accept No. 1 and 2 plastics, create the filament and sell it. It takes twenty milk jugs to produce about 1 kilogram of filament. The RecycleBot can make a kilogram of filament for less than $1.
The team, headed by Associate Professor Joshua Pearce, with Wilder as student leader, is partnering with the Upper Peninsula Recycling Coalition to create filament from common plastics like water bottles and milk jugs.
Like 3-D itself, the plan is multi-dimensional. Besides expanding the types of plastic that can be used for filament, the project will create a business model "scalable to whatever size you can handle," says Wilder. "When I graduate I can build these wherever I end up. Or a country could use the plan."
Plastic Breakdown by the Numbers
Both plastic types commonly used for 3-D printing, PLA and ABS, are categorized in the catchall No. 7 plastic category, the number you find in the triangle symbol on plastic products. PLA, is made of biodegradable cornstarch-based material. ABS is oil-based. Both are malleable when heated and solidify when cooled, allowing for multiple processing. No. 1 plastic, or PET, is trickier, says Wilder. Used for containers — water bottles, cooking oil, peanut butter and the like — "PET is hard to get in useable form where you can actually make filament. You have to get it dry and get the temperature just right or rather than plastic thread you'll get burned plastic and water."
Pearce and his team have already had some success with No. 2 plastic, or HDPE, used for motor oil, shampoo, laundry detergent bottles and toys.
Both No. 1 and 2 plastics are familiar components of commercial and community recycling programs. But recycling programs aren't common in Michigan's Upper Peninsula or other rural areas where efforts are hamstrung by transportation costs to faraway processing centers.
The team of four-year undergraduates will be presenting their findings at the coalition's conference in late spring 2016.
New Dimension to a Long-running Partnership
"We are grateful to the Ford Motor Company Fund for supporting this project that will demonstrate how plastics that are recycled in our community can be converted locally into commercial products," said Pete Cattelino, associate director of industry relations at Michigan Tech. "The University works very closely with Ford on automotive-related projects. It's also great to have a project outside the automotive focus that will make a difference for the environment and our community."
Previously Michigan Tech has received two C3 grants, both with Enterprise students in leadership roles. The 2009 effort provided free home-weatherization and energy audit services for low-income community elders. A 2011 award funded a partnership between the University and the cities of Hancock and Houghton to develop and launch a bus transit action plan.
"Michigan Tech and Ford Motor Company have a long-standing partnership dating back to at least 1954," says Cattelino. Since then, Ford Motor Company and the Ford Motor Company Fund have provided $14.5 million to support a wide range of activities across campus including scholarships, capital projects, Senior Design and Enterprise programs, student organizations, sponsored research, advisory board membership, recruiting support, youth programs, diversity initiatives and more.
Michigan Technological University is a public research university, home to more than 7,000 students from 54 countries. Founded in 1885, the University offers more than 120 undergraduate and graduate degree programs in science and technology, engineering, forestry, business and economics, health professions, humanities, mathematics, and social sciences. Our campus in Michigan's Upper Peninsula overlooks the Keweenaw Waterway and is just a few miles from Lake Superior.