US News Ranks Michigan Tech Undergraduate Education in 2016 Best Colleges List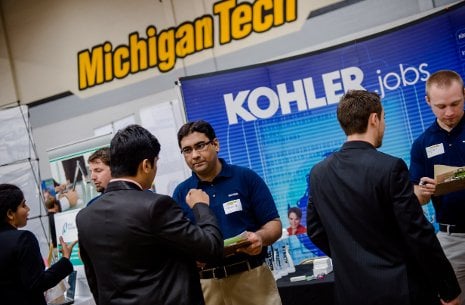 Michigan Technological University ranked 59th nationwide, near the top third of 173 public national universities in US News & World Report's annual rankings of best undergraduate colleges and universities. The 2016 "Best Colleges" report was released today.
Engineering Ranking Rises
Michigan Tech's undergraduate engineering programs placed in the top half of the engineering programs ranked by US News, moving up three points from last year to rank 70th of 152.
"We are proud of Michigan Tech's continued strong showing in the rankings, said College of Engineering Dean Wayne Pennington. "Our faculty, staff and students are excellent, and the rankings recognize that. Our experiential approach to learning and our integration of research with education are both extremely valuable components of the Tech undergraduate engineering educational experience."
In the overall ranking of 280 national universities – those that offer bachelor's, master's and doctoral degrees – Tech dropped slightly this year, ranking 123rd, still solidly in the top half. Last year Tech ranked 116.
Employers Want Tech Students
"US News rankings are based on input data and the opinions of other presidents, provosts and student affairs vice presidents from across the country," said Michigan Tech President Glenn Mroz. "While it's important to know those opinions, it's far more important for us to understand what employers who have actually been on our campus, work with our faculty and hire our students think. Those are the people who are voting with job offers and good starting salaries.
"Currently there are 360 companies registered for our Career Fair later this month. Last year these employers paid a median early-career salary of $62,800, the 7th highest among public universities in the nation," Mroz went on to say.
"We're focused on student success at Tech, and an important measure of that success is a student's return on investment, which PayScale calculates at $661,000," he added.
US News & World Report has been ranking colleges and universities for 31 years. The magazine's "Best Colleges" website says the ranking system rests on two pillars: quantitative measures that education experts believe to be reliable indicators of academic quality, and assessment by administrators at peer institutions and high school guidance counselors, based on surveys sent out each spring.
"The ranking formula gives significant weight to the opinions of those in a position to judge a school's undergraduate academic excellence, including presidents, provosts and deans," the website says. This year's rankings are based on responses to the last two years' surveys.
The quantitative data using in the rankings is provided by the schools themselves and includes freshman retention rate, predicted and actual graduation rate, student/faculty ratio, SAT/ACT scores, selectivity, class size, financial resources and alumni giving rate. This is the input data to which President Mroz referred, while employment rate, starting and mid-career salaries are considered output measures, the results of an education.
Michigan Technological University is a public research university, home to more than 7,000 students from 54 countries. Founded in 1885, the University offers more than 120 undergraduate and graduate degree programs in science and technology, engineering, forestry, business and economics, health professions, humanities, mathematics, and social sciences. Our campus in Michigan's Upper Peninsula overlooks the Keweenaw Waterway and is just a few miles from Lake Superior.