Pre-Med, Medical Students, Physicians and Researchers Network at Keweenaw Medical Conference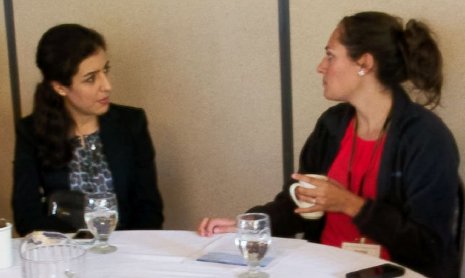 Many of the doctors, medical students, pre-med undergrads and presenters at the Third Annual Keweenaw Medical Conference in Copper Harbor had something in common – Michigan Technological University. Current students, faculty and alumni made up a good portion of the 65 attendees at the three-day event held over the weekend at the Keweenaw Mountain Lodge.
Sponsored by the Marquette-Alger County Medical Society, the conference brings together physicians and medical professionals of many disciplines, medical students and pre-med students as well as researchers for a fast-paced three days of presentations, recreation and networking.
Pre-Med Network
Networking was one of the highlights for Rachel Wiltenburg, a biological sciences major from Livonia, Mich., who was one of more than a dozen Michigan Tech pre-med students in attendance.
"It's been fascinating to see what's out there from those are pursuing their medical careers," she said.
The conversations with medical professionals were extremely important as well, Wiltenburg said. "Making contacts, networking, getting more exposure is important. The social aspects of the conference are very helpful," she explained.
Michigan Tech alumna Jennifer Dehlin, M.D., of Marquette, one of the organizers of the conference, said of the 65 attendees, about half were physicians while the remainder were students or researchers. "This conference brings in the broader medical community from pre-med students to retired professionals," she said.
Dehlin said that in addition to the students from Tech several pre-med students from Northern Michigan University attended the conference as did several medical students enrolled in the Michigan State University College of Human Medicine.
Medical Professionals, Researchers
Dehlin, who graduated from Tech with a bachelor's degree in biomedical engineering in 2001, said the event provides a rare opportunity for working medical professionals to get together with researchers working in various medical disciplines.
Bryan Dixon, M.D., president of the Marquette-Alger County Medical Society, called the turnout at the conference, "wonderful."
"We've chosen topics that are of general interest," Dixon said. "We've gathered a great group of people interested in health research."
Dixon said there's a lot of great work being done in the UP, and the conference is a chance to bring together some of those doing research with those who will one day be applying it.
At the conference, Michigan Tech students were on both sides of the podium. Maryam Khaksari, a PhD student in chemistry, presented a poster Saturday outlining her research on nutritional analysis from infant tears.
Research and Health
Khaksari said there is a strong connection between research at Michigan Tech and the medical profession. "Anything can be related and applied to medicine," she said.
Events like the Keweenaw Medical Conference help connect medical professionals with engineers and researchers, she pointed out. "My research is about diagnostics in infants," she said. "I work with a pediatrician at UP Health System-Portage to help connect my research with practical use."
Those connections are important to both professionals and students, according to Stacy Cotey, Tech's academic advisor in biological sciences.
"The conference provides a great opportunity for our students to network with current medical students and physicians who may be future mentors and co-workers," she said.
Cotey said that including researchers like Khaksari and College of Engineering Associate Dean for Research and Innovation Adrienne Minerick, who presented Friday, gave the students a more complete picture of the medical field.
"As the conference progressed, I saw the students gain enthusiasm and confidence in their career choices," she said.
Also presenting at the conference was Dana Richter, a research scientist in Tech's School of Forest Resources and Environmental Science.
Michigan Tech Pre-med to Medical Student
Andrea Bouman had a unique vantage point at the conference. As a Michigan Tech alumna, she could relate to the pre-meds, and as a fourth-year medical student in the Michigan State College of Human Medicine, she's looking ahead to her career as a physician. She said, from her perspective, Michigan Tech is a pretty strong presence in the Upper Peninsula medical community.
"Michigan Tech has a great reputation," Bouman said. "A lot of that stems from the strong curriculum and great faculty support."
She said her studies as an undergraduate at Tech included topics and subjects many of her medical school classmates weren't exposed to at other institutions.
"It is a source of pride," she said.
You could call the connection between Tech and the UP medical community a source of family pride as well.
Bouman's younger sister Valerie Taglione – a recent Tech grad – just began her first year at the MSU College of Human Medicine, and Dr. Dehlin is the former Jennifer Mroz, daughter of Tech President Glenn Mroz.
Michigan Technological University is a public research university, home to more than 7,000 students from 54 countries. Founded in 1885, the University offers more than 120 undergraduate and graduate degree programs in science and technology, engineering, forestry, business and economics, health professions, humanities, mathematics, and social sciences. Our campus in Michigan's Upper Peninsula overlooks the Keweenaw Waterway and is just a few miles from Lake Superior.