Michigan Tech's Female, Graduate Enrollment Soars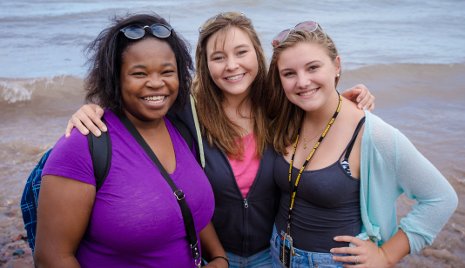 Fall 2015 enrollment at Michigan Technological University is 7,238, the highest the school has seen in more than 30 years. Female enrollment is at a record high, with women making up 26.9 percent of the student body. Female enrollment in the College of Engineering rose to 26.7 percent, and the number of women first-year students is at an all-time high.
Michigan Tech, like public universities across Michigan, submitted its official fall enrollment figures to the state last night.
University officials believe that Tech's increasing enrollment reflects the school's high job placement rate, the $62,800 median starting salaries earned by graduates and a $661,000 return on investment over 20 years.
Retention High
First to second year retention – the number of first year students who return for their second year – reached a record 87 percent. First to second year retention is a major predictor of student success
"We have really focused on making student success our highest priority for the past decade or so," said Les Cook, vice president for student affairs and advancement. "I think the numbers are a great indicator of progress. They reflect the extent of our full commitment to students."
Cook credited the record retention rate to the development of the Wahtera Center for Student Success, which provides success skills workshops, mentoring, tutoring and peer counseling, the Jackson Center for Teaching and Learning, the Opie Information Learning Commons and increased scholarship support. All are programs funded by philanthropic gifts, he pointed out.
Record Number of Graduate Students
Michigan Tech's Graduate School also reported record growth for the seventh year in a row. Graduate enrollment now stands at 1,521, the largest number of graduate students in the University's history. Driving the growth are 374 new master's degree students, a 23 percent increase over last year.
"This is the largest class of first-time graduate students in Michigan Tech's history," said Provost Jackie Huntoon, former dean of the Graduate School. " We have never enrolled this many new graduate students in one semester. As always, this success is due to the hard work of faculty and staff who are committed to providing the best possible education for all of our students."
New first-year undergraduate enrollment rose 6.6 percent this year, with twice as many new students seeking business degrees. Electrical engineering, mechanical engineering technology and Tech's health sciences programs in biological sciences, biomedical engineering, and kinesiology and integrative physiology also saw significant growth.
Freshman ACT scores remain among the highest the school has ever seen at 26.8.
Student diversity, including international students, now stands at 23 percent, with domestic diversity at 8.2 percent, up from 7 percent last year.
Michigan Technological University is a public research university founded in 1885 in Houghton, Michigan, and is home to more than 7,000 students from 55 countries around the world. Consistently ranked among the best universities in the country for return on investment, the University offers more than 125 undergraduate and graduate degree programs in science and technology, engineering, computing, forestry, business and economics, health professions, humanities, mathematics, social sciences, and the arts. The rural campus is situated just miles from Lake Superior in Michigan's Upper Peninsula, offering year-round opportunities for outdoor adventure.