Michigan Tech Releases Sexual Misconduct Survey Results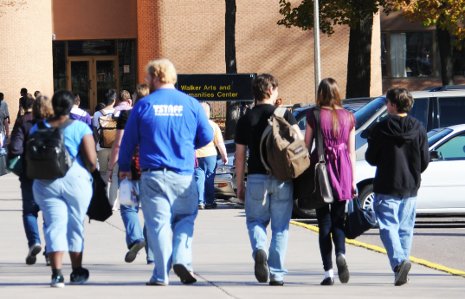 Nearly all of the Michigan Technological University students responding to a survey on sexual assault and relationship misconduct say they feel safe on campus, and most believe student safety is a priority of the University.
The results of the survey, called "Title IX: Speak Up Sexual and/or Relationship Misconduct Survey," show approximately 97 percent of respondents "feel safe on the Michigan Tech campus." Overall, Tech students agree –or strongly agree – that faculty and staff are concerned about their welfare, with 91 percent saying they believe protecting the safety of students is a University priority.
Beth Lunde-Stockero, Michigan Tech's Title IX coordinator, says the survey, which was conducted in April of this year, was distributed to all enrolled graduate and undergraduate students age 18 and over.
Lunde-Stockero says the online survey was emailed to students and should have taken most students just under 30 minutes to complete.
"Participation was voluntary," she says, "students could choose to skip questions or stop responding at any point."
Anonymous Survey
Of the 6,597 students given survey invitations, slightly more than 10 percent responded. "Responses were anonymous," Lunde-Stockero says, "and students were informed that by responding they were not in any way making an official report of any incident or incidents."
Jill Hodges, executive director of Institutional Equity and the University's affirmative action officer, says all questions pertained to the 2014-15 academic year, not prior history. "This enables us to gauge the scope and nature of the problems during their time as students at Michigan Tech," Hodges explains.
Lunde-Stockero and Hodges say decades of research indicate victims of sexual misconduct/violence rarely report sexual assault to law enforcement, so official statistics often under-represent the extent of the problem on any one campus.
"We believe that as an institution, we will see benefits from conducting surveys like this one," Hodges says.
No Forced Sexual Contact
In response to the question: "Since the beginning of the current academic year, has anyone had sexual contact with you by using physical force or threatening to physically harm you," 98 percent responded "no," while 2 percent said "yes."
Identical percentages were reported in response to a similar question regarding attempted but unsuccessful sexual contact through force or threat.
To another question, 96 percent of students responding said they did not have sexual contact from someone when they were unable to provide consent or stop what was happening because they were passed out, drugged or asleep. Of the 4 percent who responded "yes" to that question, 71 percent said the contact involved forced touching of a sexual nature.
Of those who said they had an unwanted sexual experience, more than two-thirds said it occurred off or near campus, with one-third saying it occurred on campus. In most cases, students said another Tech student was responsible for the unwanted sexual experience.
"This is consistent with national data indicating an overwhelming majority of victims know their attacker," Lunde-Stockero says.
Most Students Tell Friends
Of those who said they did have an unwanted sexual experience at Michigan Tech, 84 percent said they told someone else, most often a friend or roommate. Far fewer reported the incident to authorities. "One in four students said they reported the incident to law enforcement or an official University resource," Hodges says.
Asked why they did not report their experience, most students who responded said they did not want to get the person responsible in trouble, felt it was a private matter and/or wanted to deal with it on their own. A significant number also said they felt embarrassed or ashamed.
However, most students felt that Michigan Tech officials handle sexual misconduct incidents in a fair and timely manner.
In regards to bystander intervention, 76 percent said they could express discomfort if someone said rape victims are to blame for being raped, and 79 percent felt "extremely confident" they would ask a friend if he/she needs to be walked home from a party.
When it comes to consent, 96 percent felt it was "likely or extremely likely" they would stop having sex with a partner if he/she says to stop, even if the activity began consensually. Also, 85 percent said they were likely or extremely likely to not engage in sex with a partner who was drunk.
Lunde-Stockero says University officials have been reviewing the results of the survey to assess the scope of the problem and examine the effectiveness of current University policies and procedures.
"It is clear our students generally feel safe on campus and will 'speak up' to assist a fellow student," Lunde-Stockero says. "While this is encouraging, it can be misleading in regard to the issue of sexual misconduct. Sexual violence happens on all college campuses, and our students need to be aware and educated."
Hodges says during this fall semester, the survey findings will be discussed in depth with the Title IX Awareness Committee, composed of students, representatives from departments across campus and community organizations.
"This input will further assist improvement of programs and response to sexual and/or relationship misconduct and recommendations for a safer campus," she states.
More information on the survey can be found on Michigan Tech's Title IX webpage at www.mtu.edu/title-ix. Lunde-Stockero will present survey results to the campus community at 5 p.m. Wednesday, Sept. 16, in room 642 of the Dow Environmental Sciences and Engineering Building, on the Michigan Tech campus.
Sexual Violence Awareness and Prevention
A number of programs focusing on sexual violence awareness and prevention are scheduled on campus next week, in observance of RAINN Day, Thursday, Sept. 17. RAINN, the Rape, Abuse and Incest National Network, is a grassroots movement designed to empower college students to educate their peers about risk reduction and recovery resources on their campus. RAINN Day is an annual day of action to raise awareness about sexual violence on college campuses.
Title IX is a federal civil rights law that prohibits discrimination on the basis of sex/gender in education programs and activities, including sexual harassment and sexual violence which encompasses dating violence, domestic violence, stalking, sexual assault, sexual coercion, and rape.
Michigan Technological University is a public research university founded in 1885 in Houghton, Michigan, and is home to more than 7,000 students from 55 countries around the world. Consistently ranked among the best universities in the country for return on investment, the University offers more than 125 undergraduate and graduate degree programs in science and technology, engineering, computing, forestry, business and economics, health professions, humanities, mathematics, social sciences, and the arts. The rural campus is situated just miles from Lake Superior in Michigan's Upper Peninsula, offering year-round opportunities for outdoor adventure.