Chuck Wallace Shares How to Break Digital Barriers at White House Conference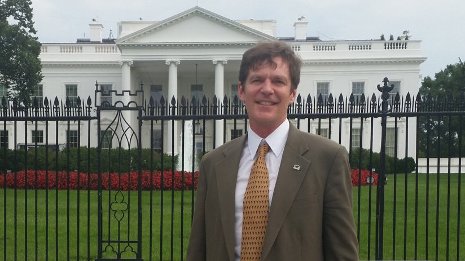 Chuck Wallace is all about breaking down digital barriers. And because of his success in doing that, this week, he got to present his work at the White House Conference on Aging.
Conference organizers invited Wallace, an associate professor of computer science at Michigan Technological University, because of his efforts to provide technology training to elderly community members in Houghton.
He says bringing down barriers is just the beginning.
"We're helping people learn how to learn and how to learn with each other," Wallace says of the way he teaches, which is akin to the "teaching a man to fish" adage. Breaking Digital Barriers is a collaborative effort in computer science, cognitive & learning sciences and humanities. Wallace works with five to ten tutors, all faculty and students at Michigan Tech, to help elderly folks at weekly sessions get a handle on the digital world.
It's challenging because that "handle" is not a physical item.
"Many of the people we help seem to learn best when they come with a tangible object," Wallace says, which could be a USB cord, a camera or another piece of hardware. But digital info and processes are tucked away and out of sight; there's no physical thing to hold onto, even when we learn how to work a specific program or app. "We emphasize learning how to learn, rather than teaching the specifics of a particular application like Excel or Facebook. As we know, apps and services change constantly, so we try to impart a deeper knowledge."
Wallace and his crew could be the people who helped Grandma learn how to stalk you on Facebook, but mostly they help people overcome the initial anxiety that comes with learning new technology. People hear stories about scams, lost files or wasted hours trying to clear out malware.
"These stories fuel this great fear, and as a result, that stifles the playful aspect of using technology," Wallace says.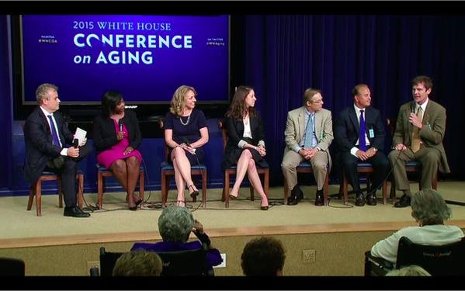 At the White House Conference on Aging, Wallace addressed several specific fears and some solutions: digital processes are invisible; less than savvy tech people often feel isolated; income disparity can result in outdated technology; streamlined software and apps don't matter if users are too nervous to even seek them out.
Wallace and several colleagues have also published their initial work on identifying these challenges. They plan to do more research on the solutions, but their preliminary work and experiences have shown Wallace and his team that social learning, offering regular classes and helping break down the abstract nature of technology makes a difference.
"We're looking at this from the user perspective," Wallace says. "And we're hoping to take this from an outreach, educational opportunity to build in more of a research component to better understand what's happening with these users."
The Breaking Digital Barriers group meets weekly at the Portage Lake Library, currently on Saturday mornings. The project is also part of Superior Ideas, Michigan Tech's crowdfunding website, and readers can help support the work here.
Michigan Technological University is a public research university, home to more than 7,000 students from 54 countries. Founded in 1885, the University offers more than 120 undergraduate and graduate degree programs in science and technology, engineering, forestry, business and economics, health professions, humanities, mathematics, and social sciences. Our campus in Michigan's Upper Peninsula overlooks the Keweenaw Waterway and is just a few miles from Lake Superior.