Chemical Engineering Professor Michael Mullins Wins Fulbright Distinguished Chair Award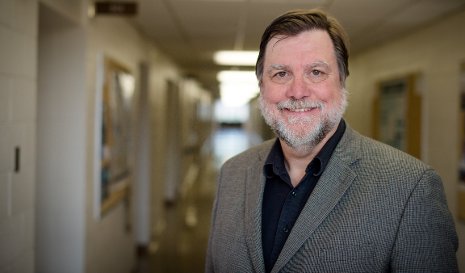 The Fulbright Scholarship Program is known throughout the world. Each year 8,000 Fulbright grants are awarded to graduate students, university faculty and researchers worldwide. Of those, just 40 recipients are chosen for Fulbright Distinguished Chair Awards, viewed as the most prestigious appointments in the Fulbright Scholar Program. For the first time, a Michigan Technological University professor has joined that elite group of eminent scholars.
Michael Mullins, professor of chemical engineering, has been awarded a distinguished chair award to spend the 2015-16 academic year on sabbatical at Chalmers University of Technology in Gothenburg, Sweden. Mullins was quite surprised when he was notified of the award. "This is kind of a big deal, I'm astounded that I got it," Mullins says, noting that of the 40 Fulbright Distinguished Chairs, only five or six are in STEM fields.
Mullins says Chalmers is a perfect fit. "They're the Michigan Tech of Sweden, of similar size and very tech-heavy," he explains. While in Sweden, Mullins will teach a graduate-level class and conduct research with a team of Chalmers faculty and staff. "Our research will involve the use of biofuels in transportation," he says.
Specifically, Mullins will be looking at developing "drop-in" biofuels. "Most untreated biofuels are not good in transportation, they are not drop-in fuels." He says, "We'll be looking to develop a way to treat biofuels that are usable in transportation without alterations."
The research in Sweden will focus on process technologies for production of "drop-in" transportation fuels from wood and other bio-feedstocks. In addition to analysis of catalytic upgrading of pyrolysis oil, which is an oil produced by distillation of wood or other biomass, and tall oil, an oily product of the chemical pulping of pine wood, a new direct liquefaction process for woody biomass will be explored.
Mullins is hoping to bring along one of his current Michigan Tech grad students to assist in the research. In addition to his work in the classroom and the lab, Mullins will travel as a guest lecturer throughout Europe.
Max Seel, Michigan Tech's provost and vice president for academic affairs, says Mullins' award is well deserved. "Mike has shown prolonged excellence and innovation in the classroom and as a research mentor for more than 25 years," Seel says. "The Fulbright Distinguished Chair in Alternative Energy Technology is a well-deserved recognition." Seel adds that this first-ever honor is a recognition that goes beyond individual accomplishments. "It is the first Fulbright Distinguished Chair recognition for a Michigan Tech faculty member, and it not only brings distinction to Mike but also to his department, the College of Engineering and to Michigan Tech."
Mullins and his wife Janet will leave for Gothenburg in mid-August.
Michigan Technological University is a public research university founded in 1885 in Houghton, Michigan, and is home to more than 7,000 students from 55 countries around the world. Consistently ranked among the best universities in the country for return on investment, the University offers more than 125 undergraduate and graduate degree programs in science and technology, engineering, computing, forestry, business and economics, health professions, humanities, mathematics, social sciences, and the arts. The rural campus is situated just miles from Lake Superior in Michigan's Upper Peninsula, offering year-round opportunities for outdoor adventure.