Michigan Tech Board of Trustees Adopts New Strategic Plan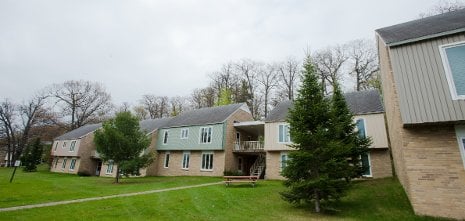 At its regular meeting on Friday, May 1, Michigan Technological University's Board of Trustees approved a new strategic plan and adopted several measures to support that plan. The new plan is based on broad review and input from the campus community, including the University Senate, deans and University leadership.
It continues to focus on exceptional and diverse people, distinctive educational programs, and research, innovation and entrepreneurship. The plan supports the vision of Michigan Tech as a leading global technological university that inspires students, advances knowledge and innovates to create a sustainable, just and prosperous world.
Bonds for Renovations
In support of the strategic plan, the Board approved issuing $25 million in general revenue bonds to fund renovations to student living space, as well as University-wide safety improvements. The bonds will fund a Daniell Heights apartments renovation project, improvements to chemical storage and chemistry labs, as well as renovation of bathrooms in McNair Hall, central heating plant fuel tanks, Memorial Union retail dining upgrades and upgrading the IT fiber backbone.
"These renovations are much needed and will improve the quality of life and the physical well-being and safety for many on our campus," said Michigan Tech Board of Trustees Chair Julie Fream.
Budget and Tuition
Also in support of the new plan, the Board passed a preliminary budget for the upcoming fiscal year, including a general fund operating budget of $173.3 million, a 3 percent increase over the 2014-15 operating budget.
Included in the budget is a 3.9 percent increase in average tuition and fees.
The preliminary budget is based on no increase in state appropriations and the 4 percent tuition increase cap recommended by the House Appropriations Committee Higher Education Subcommittee. The legislature has not yet acted on higher education appropriations, nor set a tuition cap.
The Board authorized the University administration to revise the general fund operating budget to reflect any increase in state appropriations and/or decrease in the tuition cap, while maintaining a balanced budget and informing the Board if any such changes become necessary.
"If the state appropriations or tuition cap situations change, Michigan Tech will revisit the 2015-16 budget," said President Mroz.
The Board also:
Voted to amend its bylaws to change its name from Board of Trustees to Board of Trustees, which is what most other state universities call their appointed boards. Changing the Board's name will not change any of the members' duties, powers or responsibilities, which are determined by the state constitution.
Approved a new Bachelor of Science in Natural Resources Management.
Granted emeritus rank to Bahne Cornilsen, professor emeritus, Department of Chemistry, and Robert O. Warrington, professor and dean emeritus, Pavlis Honors College, upon his retirement on Jan. 5, 2016.
Promoted 11 associate professors with tenure to professor with tenure, 18 assistant professors to associate professor with tenure and one associate professor without tenure to associate professor with tenure.
Elected Julie Fream as chair and Paul Ollila as vice chair of the Board for the 2015-16 academic year. They are currently serving in those positions and will do so for another year.
Honored Provost Max Seel, who is returning to the Physics faculty, for his leadership and service as provost.
Michigan Technological University is a public research university founded in 1885 in Houghton, Michigan, and is home to more than 7,000 students from 55 countries around the world. Consistently ranked among the best universities in the country for return on investment, the University offers more than 125 undergraduate and graduate degree programs in science and technology, engineering, computing, forestry, business and economics, health professions, humanities, mathematics, social sciences, and the arts. The rural campus is situated just miles from Lake Superior in Michigan's Upper Peninsula, offering year-round opportunities for outdoor adventure.