Graduating Veterans and their Guardian Angel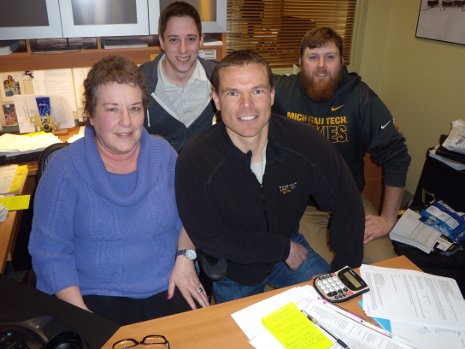 Ryan Dixon has a great deal to look forward to: after commencement, he's off to medical school on a full-merit scholarship. But today he's thinking back, along with graduating master's students Brett Barker and Ben Bryant, to what makes Michigan Technological University such a welcoming place for military veterans.
He, Barker, and Bryant have all returned to school after serving in combat deployments with the armed forces. "Transitioning back to academia presents a multitude of challenges," Dixon says, "among them are the self-doubts in one's ability to succeed. There are also the administrative challenges in working with the VA. It's a lot to figure out."
"Michigan Tech is a vet-friendly school," Barker, completing his MS in biomedical engineering, adds.
"But it's a lot more friendly thanks to Kathy."
There are nods all around as the conversation turns to the influence Kathy Pintar, senior coordinator of student services here at Michigan Tech, has had on their college experience.
"When I came back to school, Kathy was the first person I talked to on campus," says Bryant, who is graduating with his MS in civil engineering. "She knew what forms to fill out, how the VA and Tech work together. She has all of the answers."
Barker recalls one perfect example. "I came back to school, but I got recalled to go again. On my second tour, I had an issue with the VA—they were calling my family in Connecticut—so I had to call Tech from Afghanistan. Kathy picks up the phone, and I was frustrated and stressed out. She just said that she's got it and not to worry. And she did.
"She must have multiple phones in her office," Barker adds. "She's on hold with the VA all the time, and she still gets it all done. At a lot of other schools, that sort of thing would be ours to do. But Kathy handles it for us, helping us to succeed. And she's proactive about all of it, checking our files, making sure we're doing what we need to do."
Dixon agrees. "Any time I've had to lean on Kathy for help, she's made me feel like a top priority. She is able to offer that type of support to all the vets on campus with an ease that seems nearly superhuman. She's been the angel on my shoulder throughout my time here."
A student organization of veterans also helps student veterans to stay connected. With more than 55 former military students at Michigan Tech with the help of the GI bill, there is a significant veteran presence on campus.
"The veterans group has been restarted in the last couple of years," Barker says. "Every meeting is helpful, always informative, always supportive."
"One of the first things I did was go to one of those meetings," Bryant says. "That was great for support. If we had any questions, we had this group to help us."
"We were all able to just focus on school thanks to all of the help. We're all going on to do new things," Bryant says. After graduation, he'll be staying in the Keweenaw, going to work for Fire Tower Engineered Timber in Calumet.
"Communication is a huge thing," Barker adds. He's off to work for Epic Systems—a medical software company—down in Madison. "It's not a matter of how Tech can do that better. We really appreciate what we have here."
"People are generally very supportive of veterans. Some might even ask what they can do to help us out." Dixon says. "To that I would say that every veteran has a vast potential. I believe the greatest thing a person can do to help is to first recognize that potential. Then, if possible, help them to live up to it. Kathy exemplifies that two-step process, and she does so with grace and humility. I know that she doesn't expect any 'thank-you's in return, and that's fine—I would never be able to thank her enough if I tried anyway."
Michigan Technological University is a public research university founded in 1885 in Houghton, Michigan, and is home to more than 7,000 students from 55 countries around the world. Consistently ranked among the best universities in the country for return on investment, the University offers more than 125 undergraduate and graduate degree programs in science and technology, engineering, computing, forestry, business and economics, health professions, humanities, mathematics, social sciences, and the arts. The rural campus is situated just miles from Lake Superior in Michigan's Upper Peninsula, offering year-round opportunities for outdoor adventure.