Commencement 2015: What Has Been and What's to Come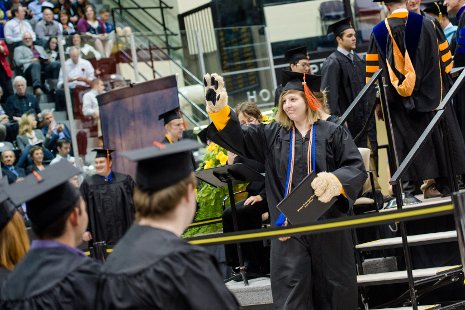 I had two main projects on my desk last week. The first consists of materials for Commencement—the program and script, media information, etc. The second was a proofreading pile for next fall's Orientation. When they'll get here and check in. Who will help them move in. An illusionist and orientation for siblings, a picnic to say farewell to family. It's a contrast in past and future, what's been here and what's yet to come. Who's been here and who is yet to come.
Commencement means a lot of planning—not just the dedicated crew of faculty and staff who work to pull it all together—but for students: years of work and play, study and exploration, big things and small. On a day like today, it's easy to only remember the big things, to miss some of the little ones.
Details like the spot in the Multipurpose Room where you lined up. The walk past the Coaches Corner, what you might remember as a cluster of vending machines. The walk down the stairs to the ceremony floor—a lot different view than during hockey games.
Or the day before—rehearsal—where Mari said no to selfies and reminded everyone to show up early. When the DT or the Dog are a quick afternoon escape on that last day of being a student. Of hearing the names George Clooney and Angelina Jolie read out during an example of how students will walk across the stage to become graduates. Were they in our class? Who knew. Twelve minutes of announcements, shorter than practicing lining up and walking.
The program, with its symbols of honors next to names. The flowers up by the stage. The row of flags along the back, representing the many nations of our international students. The concrete of the floor under the ice. That Glenn Mroz gave his speech where Jamie Phillips made so many saves this year. Of Kyle's student speech, eulogizing the computer labs and making sure we remember what has changed and what will stay the same. Dr. Susan Skochelak's Commencement speech and her three life lessons. The names. And names and names. The metallic confetti. High-fiving Blizzard. Standing at the end of the ceremony—when all alumni were asked to stand.
That's just the three hours graduates spent together on Commencement day. Every single one of the 1,000+ graduates had hundreds of days of memories, of obscure moments, of tiny details. Of the way the floor slopes in Fisher 135, and how not to trip. Of the faded paint on some light poles noting former bus stops. Of the kayak sitting on the rack at OAP, the one they took across the Portage. Of where my room or my class or my lab or my friend used to be.
Because Commencement also symbolizes what is next, what gets passed on. What traditions are now someone else's to uphold. What apartments and houses, offices and labs will become familiar. What streets with what names become the next College or Montezuma or Shelden.
During the ROTC commissioning, we hear where they are going, what they'll be doing. Reporting to forts and bases, as near as Detroit and as far as Germany. Each graduate has as much story to tell. They'll go to Chicago or the Twin Cities, LA or New York, Shanghai or Delhi or Paris or Calumet.
The unity of one morning-into-afternoon in a hockey rink, the shared date-after-name for year of graduation, this was the Class of 2015, together. All of us seated, ringing them as their names are called, think of what they've done, what we've done, either as alumni or as parents or as friends. We take pictures, we text, we tweet, we snap. We remember when.
Today, our freshly minted graduates think too of when, but it will be a two-way road. They're holding onto the future as much as the past. They have the ticket in their hands. Much like the projects on my desk, they walked out of the SDC with two things in their grasp. In one hand, their caps: tassels and cords, symbols of each moment of the past few years in Houghton. In the other, their diploma: their proof and their passport.
That's for what's yet to come.
Michigan Technological University is a public research university founded in 1885 in Houghton, Michigan, and is home to more than 7,000 students from 55 countries around the world. Consistently ranked among the best universities in the country for return on investment, the University offers more than 125 undergraduate and graduate degree programs in science and technology, engineering, computing, forestry, business and economics, health professions, humanities, mathematics, social sciences, and the arts. The rural campus is situated just miles from Lake Superior in Michigan's Upper Peninsula, offering year-round opportunities for outdoor adventure.