Gordon Parker Elected SAE International Fellow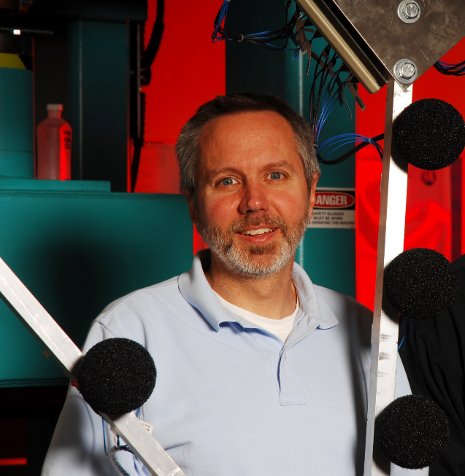 What do machines that travel through water, air and on land all have in common? Control systems that coordinate the machines. For his work in control system design, Gordon Parker was elected a Fellow by SAE International, the society's "highest grade of membership." Parker is the John & Cathi Drake Chair Professor of mechanical engineering at Michigan Technological University and the co-director of the Agile and Interconnected Microgrid (AIM) Center.
SAE International's Fellows are the society's model members and are recognized for their research and teaching, but more so for their professional achievements. In Parker's case, his work shows the value of integrated control systems across industries. This is a reflection of SAE International's focus on mobility engineering that spans transportation industries.
"I think that's why I was attracted to this research," Parker says. "Control systems are found just about everywhere. My contributions usually exploit the similarities in the systems that span aerospace, vehicle and naval applications."
Control systems are both the heart and brain of a machine. The system not only tells the working parts of a machine what to do, but it keeps the whole apparatus stable. "Whether its physics are dominated by electrical, chemical or mechanical principles, the control system runs it," Parker says.
That breadth in Parker's work is one of his strengths, says Bill Predebon, chair of the Department of Mechanical Engineering-Engineering Mechanics.
"He is one of those rare professors," he adds. "Creative, productive, talented and an inspiring instructor — he's a team player."
He is also a leader, most notably as co-director of the AIM Center on campus. The center focuses on microgrids, which generate electricity on a small scale. They can be robots, vehicles, off grid facilities — anything that is capable of producing energy and operating autonomously. The agile and interconnected part is key to Parker's work; in order to establish an efficient microgrid system, the components are all run through control systems.
Parker says guaranteed stability is central to making those control systems viable. "We use feedback to change the system, and wonderful things can happen, but if we're not careful, terrible things can happen too — we want to make sure the entire system is stable."
Innovation in stability. That's what makes this SAE International Fellow's work go round.
Michigan Technological University is a public research university founded in 1885 in Houghton, Michigan, and is home to more than 7,000 students from 55 countries around the world. Consistently ranked among the best universities in the country for return on investment, the University offers more than 125 undergraduate and graduate degree programs in science and technology, engineering, computing, forestry, business and economics, health professions, humanities, mathematics, social sciences, and the arts. The rural campus is situated just miles from Lake Superior in Michigan's Upper Peninsula, offering year-round opportunities for outdoor adventure.