Finlandia Art Students Find New Tools in Michigan Tech Foundry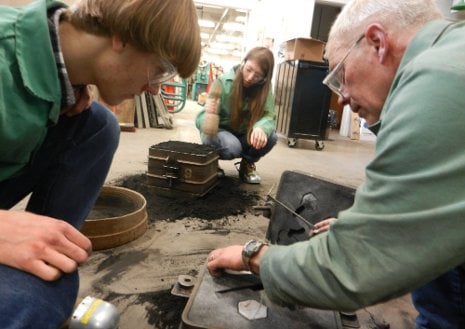 Science and art can beautifully coexist. Each complements the other – you just have to explore the connections. And, that exploration is just what happened during a collaboration between a sculpture class from Finlandia University International School of Art & Design and Michigan Tech's Department of Materials Science and Engineering this semester.
The sculpture class at Finlandia is part of the art and design core curriculum and is taught by Phyllis Fredendall, a professor of art and design. Her students explore form and materials working in clay, plaster, wood and fiber. They work with metal wire and salvaged metal, but have not been able to cast metals until this year, when Fredendall arranged with Tech's chair of materials science and engineering, Stephen Kampe, to bring her students across the Portage Waterway to work in Michigan Tech's foundry.
"I have for many years wanted to give my sculpture students a chance to cast metal," says Fredendall. "I knew that there was a foundry in the Materials Science and Engineering Department at Michigan Tech, but I did not have contact information until last summer."
Kampe welcomed her. "The history of casting is rich with artistic contributions, so the collaboration with Finlandia's sculpture class seems a natural fit for our foundry," he explains. "It offers a chance for our engineering students and their art students to engage in a common interest, and that can only broaden everyone's perspective. It's a win-win project that'll be a lot of fun."
Kampe and Dale Dewald, who manages the foundry, arranged two sessions for Fredendall's students to work at the facility, with extra help provided by Michigan Tech graduate student Karl Warsinski.
Bronze, Aluminum Casting
There, they were able to cast in both bronze and aluminum. The bronze castings were made by the classic lost-wax process, where patterns were carved from beeswax blanks by Fredendall's students. These were then glued to a center wax post and embedded in plaster-like ceramic to make a mold. The wax was melted out and "lost," and the mold fired, preparing it to pour in the molten bronze.
The aluminum castings began with Fredendall's students creating solid patterns in clay, which they brought in to be molded with green sand, another molding method available at Michigan Tech's foundry. Molds were created by compacting moist (hence the term green) sand into two-piece frames around the patterns. The frames then were opened to remove the patterns from the sand, leaving cavities into which the aluminum was poured.
"The Finlandia students were well prepared with design ideas to carve into wax patterns," says Dewald. "Since the Finlandia students were familiar working with their hands, they also took to the green sand molding very well."
The participants' trial run produced not only castings, but ideas for improving the experience next time. The clay that the Finlandia students used to make their free-form patterns had not been fired, so it absorbed moisture from the sand, producing casting surfaces that were somewhat rough, Dewald explains. "Next time we will have them coat the patterns with shellac, and I expect much better detail to be preserved," he says.
"The entire foundry experience was enlightening. Observing molten bronze being poured into the molds is particularly captivating," says Christopher Archer, one of Fredendall's students.
Art and Technology
Abbey Tembreull, another sculpture student, calls the collaboration between Finlandia's International School of Art and Design and Michigan Tech an exciting idea. "I am compelled to consider the possibilities of what two distinctly different, yet complementing, mindsets could bring into fruition," she says. "My experience at the foundry provided a stirring glimpse of artistic opportunity that I may in the future seek to develop further. This foundry exposure and my sculpture class in general has broadened my toolbox for future creations and possibilities."
Fredendall says she was "delighted to introduce the students to two mold-making processes and give them a chance to witness a metal pour in both aluminum and bronze. It was all just great. I am so pleased that the pilot project went so well, and I hope to continue our collaboration for an upper level course."
Michigan Technological University is a public research university founded in 1885 in Houghton, Michigan, and is home to more than 7,000 students from 55 countries around the world. Consistently ranked among the best universities in the country for return on investment, the University offers more than 125 undergraduate and graduate degree programs in science and technology, engineering, computing, forestry, business and economics, health professions, humanities, mathematics, social sciences, and the arts. The rural campus is situated just miles from Lake Superior in Michigan's Upper Peninsula, offering year-round opportunities for outdoor adventure.