University Innovation Fellows Promote Entrepreneurship at Tech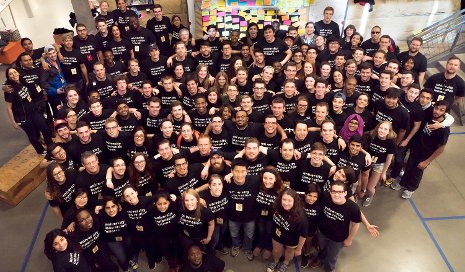 Many students worry about finding jobs and stability after Michigan Tech, but others are willing to take more of a chance. They are focusing on innovation and entrepreneurship as the way to make their mark on industry and the world.
Innovation and entrepreneurship are two avenues that Brad Turner, a second year software engineering undergraduate, definitely plans to explore while he is at Michigan Tech. And it seems to be working, for he was recently named a University Innovation Fellow.
The University Innovation Fellows program is a national initiative that empowers student leaders to increase campus engagement with entrepreneurship, innovation, creativity, design thinking and venture creation. The National Center for Engineering Pathways to Innovation, also known as the Epicenter, runs the program, which is funded by the National Science Foundation (NSF) and directed by Stanford University and VentureWell. Nationwide, there are currently 291 Innovation Fellows from 115 universities and colleges. All have completed an intense, seven-week training program to become a fellow.
Michigan Tech's first University Innovation Fellow was David Shull, a fifth year computer engineering undergraduate. Both Turner and Shull were nominated for the program by Mary Raber, director of the Enterprise Program. Through the Pavlis Honors College, three more students have completed the spring 2015 Fellows training program: Magann Dykema, Joshua Krugh and Arsh Sahu. All three plus Turner traveled to Silicon Valley in California this semester for the University Innovation Fellows Annual Meetup.
Design Thinking
"This program is intensively designed to generate design thinking within ourselves. It was a great experience, and it was a very different way for students and the people associated to think about life," says Sahu.
"Fellows who graduated from the program last year shared their testimonies on how they have implemented what they learned into making a lasting change on their campuses," says Dykema. "It was an inspiration to see how much they did in less than a year's time, and I cannot wait to see what our group of fellows here at Michigan Tech will be able to accomplish."
Entrepreneurship
Turner says he sees a lack of passion, enthusiasm and culture for innovation and entrepreneurship at Michigan Tech, and he feels that students are unaware of where they can get support and creative space. "Students look to companies for a stable job once they graduate and sometimes think that having an entrepreneurial mindset isn't important. Our goal isn't to get students to just start companies, but to better prepare them for whichever path they choose once they graduate, whether that involves capitalizing on a big idea or implementing design thinking, creativity and innovation in their internships, co-ops and jobs after graduation," he comments. A student culture of innovation and entrepreneurship here at Tech is what Turner hopes to develop and promote to students.
Shull adds, "I believe that if we get a group of passionate students working on making Tech a better environment for innovation and creativity, we'll unlock amazing potential. I believe when you combine engineering aptitude with creative thinking and a healthy disregard for the impossible, anything is possible. That's what we're trying to create here at Tech. Students at Tech don't think about starting their own business as a viable option after school. We have more than 300 employers show up to Career Fair, which is great, but it doesn't breed a culture of innovation and entrepreneurship. I'd love for every student to at least consider starting their own business or working for a startup." Shull is now the Business Development Lead for a startup founded by Tech students, Handshake.
Michigan Tech is one of only 12 universities selected to participate in Epicenter's Pathways to Innovation program, which is geared toward improving the culture of innovation on campuses nationwide through faculty-led initiatives. Michigan Tech's Pathways team is led by Leonard Bohmann, associate dean of the College of Engineering.
Culture of Innovation
Together, the University Innovation Fellows and Pathways Team have set in motion strategies for cultivating passion, enthusiasm and a culture of innovation and entrepreneurship on campus, including:
An Innovation Space is currently being retrofitted to provide an area on campus available for students looking to invent and create without intellectual property policy limitations.
A collaboration with Orientation will bring design thinking, creativity and innovation workshops to 100 percent of the incoming class next fall.
A Lean Launch Pad class is being offered this semester, taught by Raber and Jim Baker, executive director of Innovation & Industry Engagement, to help students learn to start a business from the bottom up.
And much more.
The Movement
Additionally, Turner, Sahu, Dykema and Krugh are working on creating a student organization called The Movement that will focus on incorporating design thinking, innovation and entrepreneurship in all aspects of campus. They plan to organize events, workshops, bring about changes in curriculum and create spaces for students to exercise their creativity and bring their ideas to life. "We always talk about creating the future at Michigan Tech," says Turner. "We believe the time is now."
The University Innovation Fellows are looking for more students to become involved with innovation on campus. "It doesn't matter what kind of experience you have," says Turner. "We need people that are 'doers' and want to make an impact. Just reach out, and you'll get out more than what you put in. This is a great opportunity for you to leave your legacy here on campus."
Interested students should contact Mary Raber, mraber@mtu.edu.
Michigan Technological University is a public research university founded in 1885 in Houghton, Michigan, and is home to more than 7,000 students from 55 countries around the world. Consistently ranked among the best universities in the country for return on investment, the University offers more than 125 undergraduate and graduate degree programs in science and technology, engineering, computing, forestry, business and economics, health professions, humanities, mathematics, social sciences, and the arts. The rural campus is situated just miles from Lake Superior in Michigan's Upper Peninsula, offering year-round opportunities for outdoor adventure.