Michigan Tech Ranked Among Top Schools for Graduates' Future Earnings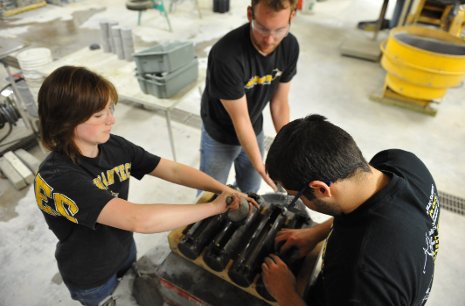 Once again, Michigan Technological University has earned high marks from the Business Insider financial news website for the salaries its graduates earn at mid-career. In its latest list of "most underrated colleges in America," Business Insider ranked Michigan Tech 15th in the nation for mid-career salaries and 10th in starting salaries among public universities.
To determine the most underrated colleges, the website compared US News' rankings of the best universities and national liberal arts colleges with PayScale's 2013-2014 College Salary Report, which ranks colleges and universities based on their graduates' mid-career salaries.
High Mid-Career Salaries
Business Insider was specifically looking for schools that had relatively low rankings on the US News list but high mid-career salaries. "We found that most of the underrated schools were engineering and technology schools with relatively low US News rankings but outstanding salary performance," Business Insider notes on its website.
Business Insider also listed "overrated" institutions. Interestingly, some prestigious universities with high US News rankings turned out to be "overrated," according to the Business Insider formula.
The website reports that Michigan Tech grads have the 10th-highest starting salary in the country among public universities and an average mid-career salary of $94,700. It also lists the job, graduate school or military placement rate within six months of graduation at 92 percent, although in fact Tech's placement rate now is almost 95 percent.
President Glenn Mroz was pleased to learn of Business Insider's latest ranking. "This underscores the fact that a Michigan Tech education pays off, that we are preparing our students to go on to successful careers," he said.
In Business Insider's last "Most Underrated Colleges" report in 2013, Michigan Tech ranked 22nd in the nation.
Read more about the 2015 Business Insider rankings at http://www.businessinsider.com/most-underrated-colleges-in-america-2015-1?op=1#ixzz3QJOn6DaP
Michigan Technological University is a public research university founded in 1885 in Houghton, Michigan, and is home to more than 7,000 students from 55 countries around the world. Consistently ranked among the best universities in the country for return on investment, Michigan's flagship technological university offers more than 120 undergraduate and graduate degree programs in science and technology, engineering, computing, forestry, business and economics, health professions, humanities, mathematics, social sciences, and the arts. The rural campus is situated just miles from Lake Superior in Michigan's Upper Peninsula, offering year-round opportunities for outdoor adventure.