Michigan Tech Deploys Under-ice Research Instruments in Frozen Portage Waterway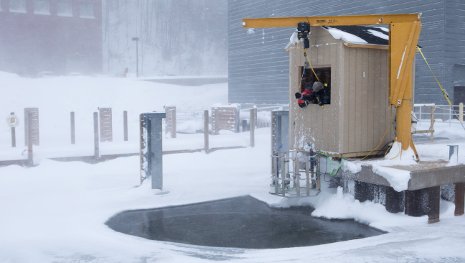 Research partners from the University of Michigan and the University of Hawaii joined Michigan Tech's Great Lakes Research Center (GLRC) scientists and engineers to deploy 17 under-ice research instruments 16 feet below the frozen Portage Waterway last Friday afternoon.
The instruments included an underwater video camera, water testing equipment, a hydrophone and an underwater light sensor. The research, which will go on through April, is part of an Alliance for Coastal Technologies (ACT) study for which Michigan Tech was selected as the winter study site.
The GLRC is testing eight dissolved oxygen sensors for ACT, a partnership of research institutions and private sector companies working together to develop effective and reliable sensors and other technologies for use in coastal, fresh water, and ocean environments.
Chemistry Professor Sarah Green will analyze the results of the oxygen sensor tests.
Dan Schar from the University of Hawaii and Heidi Percell from the University of Michigan joined Guy Meadows, Mike Abott, Jamey Anderson, Colin Tyrell and Foad Yousef from the GLRC during the deployment.
Michigan Technological University is a public research university founded in 1885 in Houghton, Michigan, and is home to more than 7,000 students from 55 countries around the world. Consistently ranked among the best universities in the country for return on investment, Michigan's flagship technological university offers more than 120 undergraduate and graduate degree programs in science and technology, engineering, computing, forestry, business and economics, health professions, humanities, mathematics, social sciences, and the arts. The rural campus is situated just miles from Lake Superior in Michigan's Upper Peninsula, offering year-round opportunities for outdoor adventure.