Chemistry Professor Gives Women in STEM a Step Up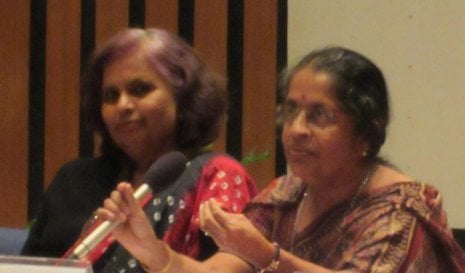 Women may be an underrepresented group in the STEM fields (Science, Technology, Engineering and Math) at Michigan Tech, but Pushpalatha (Pushpa) Murthy is doing something about it—not only at Tech, but nationally and internationally. A professor of chemistry at Michigan Tech, she is currently working at the National Science Foundation (NSF) as program director in the Division of Graduate Education. She has been involved with the Graduate Research Fellowship Program (GRFP) and the NSF Research Traineeship (NRT) program. She is also in charge of GRFP outreach activities to historically black colleges and universities.
Murthy recently worked with women in STEM in India. "I've always been interested in underrepresented groups in the STEM field," states Murthy. In India, she focused on faculty and their professional development.
Traveling to both New Delhi in the north of India and Bangalore in southern India, Murthy and other leaders ran workshops for women in STEM, including programs like Career Launch and Acceleration, Factors that Impact Women's Careers and The Art of Effective Negotiation. Murthy says the women faculty members were motivated and excited to participate in these workshops, as this was the first time they were attending workshops focused on their own advancement.
"Most of the research on this topic has been conducted in the United States," she explains. "Most other countries do not have research data on issues women in STEM or other careers face. International women are very interested in the subject and want to know how the data apply to their situation."
Her passion for helping other women develop professionally started at Michigan Tech, where Murthy won the Distinguished Faculty Service Award and continued with her involvement in COACh (Committee on the Advancement of Women Chemists.) COACh has been growing its efforts for women scientists and engineers in the US and developing countries through a series of in-country career workshops and networking events.
Murthy is back in the US, but her passion for helping all underrepresented groups in their career development continues. "I'm interested in women in STEM across the globe and especially in the United States and India, because I'm from India and came here for my graduate studies," she says. "It was been very exciting for me. I want to share the research data and my experiences with others so they will have more opportunities."
Michigan Technological University is a public research university founded in 1885 in Houghton, Michigan, and is home to more than 7,000 students from 55 countries around the world. Consistently ranked among the best universities in the country for return on investment, Michigan's flagship technological university offers more than 120 undergraduate and graduate degree programs in science and technology, engineering, computing, forestry, business and economics, health professions, humanities, mathematics, social sciences, and the arts. The rural campus is situated just miles from Lake Superior in Michigan's Upper Peninsula, offering year-round opportunities for outdoor adventure.