Michigan Tech Thanks Retiring Board Members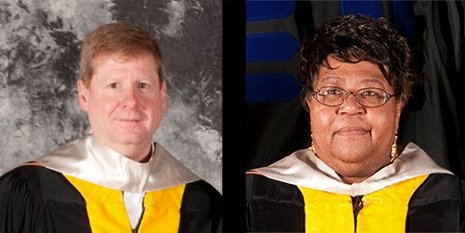 At its regular meeting on Dec. 19, 2014, the Michigan Technological University Board of Trustees applauded the accomplishments of retiring Board members Lenora Ashford and Steve Hicks. Ashford and Hicks are finishing 8-year terms on Dec. 31. Last week, Gov. Rick Snyder appointed two new Board members to take their place: Brenda Ryan and William Johnson.
"We would like to thank Steve for his leadership as chair of the Audit and Finance Committee and as Board Chair, and Lenora for her leadership as Chair of the Academic Affairs Committee," said Board Chair Julie Fream. "Both Steve and Lenora's contributions to Michigan Tech and higher education in general have been of the highest order, and we extend our sincere appreciation to them for their dedication and tireless efforts on behalf of Michigan Tech. Our best wishes to Steve and Lenora in their future endeavors."
During Hicks' and Ashford's tenure on the Board, ACT entrance scores at Michigan Tech rose more than two points, from 25.2 to 27.4. Research and development more than doubled, from $32 million to $70 million. Enrollment of women increased by 18 percent to an all-time high of 1,868, and graduate enrollment rose 57 percent to 1,442. During their years on the University's governing Board, Michigan Tech also completed a fundraising campaign that raised more than $215 million with a major focus on named faculty positions, student scholarships and fellowships, and lab and teaching facilities.
At the meeting, the Board approved a new Master of Science program in Applied Physics, as recommended by the University Senate. The new program will begin in September 2015. The Board also changed the name of the Bachelor of Science degree program in Geology-Earth Science Education to a B.S. in Geology-Earth and Space Science and Integrated Science, as recommended by the University Senate, to reflect the fact that the program prepares teacher candidates in all three fields.
The Board heard a report from David Reed, vice president for research, that federal research grants are on the upswing again, with $16.1 million in awards the first quarter of this fiscal year, compared to $11.1 million during the first quarter of the previous fiscal year. Industrial support is also up, totaling $2.9 million during the first quarter of fiscal 2015, compared to $1 million in the first quarter of fiscal 2014. Total sponsored awards rose 50 percent, from $14.1 million during the first quarter of fiscal 2014 to $21.3 million in the first quarter of fiscal 2015.
In other action, the Board:
approved residence hall room and board and apartment rental rates for the 2015-16 academic year. Standard occupancy rates for the academic year, including the "gold" or median meal plan, will increase $341 in Douglass Houghton Hall, McNair Hall and Wadsworth Hall. Standard occupancy includes double, triple or quad rooms. Hillside Place apartment rentals will increase $330 for the academic year. Daniell Heights Apartments rent will go up $10 per month for a 1-bedroom, $11 per month for a 2-bedroom and $14 per month for a 3-bedroom, an approximately 1.5 percent increase.
authorized the President to sign an agreement with the Michigan Economic Development Corporation to extend the tax capture for the Michigan Tech Enterprise Corporation (MTEC) SmartZone to Dec. 31, 2032.
adopted a copyright policy that transfers copyright on scholarly, academic or artistic works back to the faculty or staff member who produced them, with specified exceptions.
approved the rank of professor emeritus for Robert Kolkka, Mathematical Sciences; Sandra Boschetto-Sandoval and Ciro Sandoval, Humanities; and Mark R. Plichta, Materials Science and Engineering.
recognized Donald Darcy, a building mechanic, for 36 years of service to Michigan Tech.
approved submission of an application for a grant from the Michigan Coastal Management Program for improvements to the campus waterfront.
heard an update from Provost Max Seel on the Pavlis Honors College, the Jackson Center for Teaching and Learning and Tech's pre-college STEM outreach programs.
approved revisions to the University Senate constitution, including: defining the role of assistant deans, who are Senate constituents but may not serve as senators or alternates; changing the terms of office for new senators and alternates, as well as new officers, to begin immediately after their election in the spring rather than at the start of the fall semester; and stating that the latest edition of Roberts Rules of Order is to be used in Senate deliberations.
heard a report from Senate President Craig Waddell, who noted that payscale.com's latest list of salaries of graduates of more than 1,100 colleges and universities nationwide ranked Michigan Tech 83rd in the nation with a mid-career salary for alumni with bachelor's degrees averaging $94,700. He also mentioned the new Senate webpage: www.mtu.edu/senate.
Michigan Technological University is a public research university founded in 1885 in Houghton, Michigan, and is home to more than 7,000 students from 55 countries around the world. Consistently ranked among the best universities in the country for return on investment, the University offers more than 125 undergraduate and graduate degree programs in science and technology, engineering, computing, forestry, business and economics, health professions, humanities, mathematics, social sciences, and the arts. The rural campus is situated just miles from Lake Superior in Michigan's Upper Peninsula, offering year-round opportunities for outdoor adventure.