New Superior Ideas Projects Seek Donations for K-12 Outreach Programs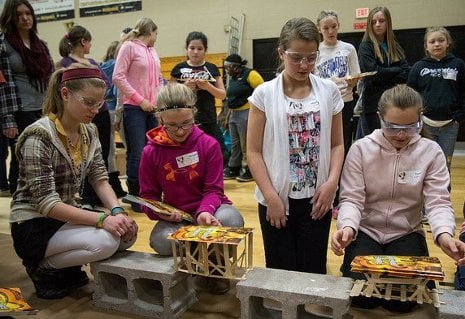 If you want to help young people—and particularly female young people—get hooked on STEM (science, technology, engineering and math), now is your chance. Two new projects have been posted on Superior Ideas, Michigan Technological University's crowdfunding website.
The projects, posted by the Center for Educational Outreach, enable anyone to help support two of Michigan Tech's most successful K–12 STEM outreach programs: Get WISE and Tivitz.
Showing Local Girls Engineering Is Cool
"Get WISE brings 250 local seventh and eighth grade girls to campus for a day," explained Liz Fujita, assistant coordinator for the Center for Educational Outreach. "The girls do activities in groups, have friendly competition, and complete engineering challenges—like building a bridge with household materials and testing it." The girls also meet role models, including women Tech students and successful alumnae, and they leave with lessons and kits to bring home and back to school.
"These girls come from all around the area, including Gogebic-Ontonagon ISD and Copper Country ISD," said Fujita. "A lot of times, there's a stigma that math and engineering aren't cool or aren't for girls. We are trying to reinforce the idea that girls can be engineers."
Game Brings Fun to Arithmetic
The second program, Tivitz, is "a mash-up of checkers and arithmetic," Fujita said. "The students learn to play the game in school, then come to Tech to compete round-robin style. For a lot of the younger students, this is their first experience at a university."
In addition to the game, the fourth through 7th grade students do three math-related activities to round out their daylong field trip to campus.
"With help from Superior Ideas donations, we can send students home with something cool after the event," said Fujita.
Small Donations Make a Big Difference
You can help sponsor the two projects by making a tax-deductible donation through the Get WISE or Tivitz Superior Ideas project pages. Each project offers incentives for different donation amounts; a $15 donation earns a Mind Trekkers wristband while a $100 donation is rewarded with a T-shirt.
"Donations will help us bring cooler activities, send kids home with more things and help cover the costs of providing lunches and using the venue," said Fujita.
Tivitz is cosponsored by the Department of Mathematical Sciences, and both Tivitz and Get WISE are cosponsored by the Western UP Center for Science, Mathematics, and Environmental Education.
Michigan Technological University is a public research university founded in 1885 in Houghton, Michigan, and is home to more than 7,000 students from 55 countries around the world. Consistently ranked among the best universities in the country for return on investment, the University offers more than 125 undergraduate and graduate degree programs in science and technology, engineering, computing, forestry, business and economics, health professions, humanities, mathematics, social sciences, and the arts. The rural campus is situated just miles from Lake Superior in Michigan's Upper Peninsula, offering year-round opportunities for outdoor adventure.