Fall Career Fair 2014: Students, Employers Ready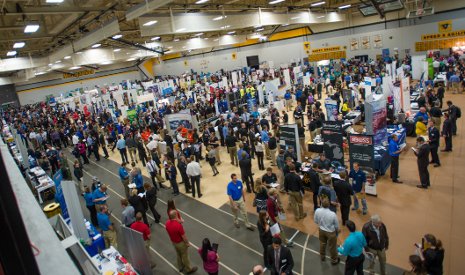 The first thing you notice is the noise. It's a subtle roar, hundreds of conversations about thousands of possibilities. The fall 2014 Career Fair is bigger than ever, and thousands of students are lining up to continue farther down the road toward their careers.
But Career Fair is more than a single-day event. It's more than just a crush of cars trying to park at the SDC, more than the Multipurpose Room overflowing into the Varsity Gym (and the Varsity Gym overflowing into the hallway), more than 3,500 students visiting nearly 350 companies.
It really begins the first day students step on campus, their first classes, the support they get from Learning Centers, advice from older students. With every class, every bit of hands-on education, every Enterprise project, students work closer and closer with industry, preparing them for what comes next. For the day when they spell-check resumes, rehearse greetings and hunt for shoe polish.
The formal process for this fall's Career Fair began nearly a month ago, when a crowd piled into Fisher 135 on a Wednesday evening for Senior Meeting. Full of pizza, they were ready to hear from Career Services staff and GM's Trista Schieffer (a Tech alumna) about what comes next. The message? Now is the time to be prepared.
"Three hundred and forty companies are coming," said Steve Patchin, director of Career Services. "Why? Because of you."
He then outlined a game plan, advising students to pick their target companies and work on engaging with them. "Bring your resume, your pen and your smile," he said. "Build your professional network, build contacts for the future. Even if one opportunity doesn't work out, it's okay. When one door closes, another always opens."
The message for the evening: be ready to take the next steps, and there is support to help students get there.
Those next steps took place over the past few weeks, including Resume Blitz, where students can get advice on that all-important document to get their foot in the door, and mock interviews, a chance to practice their first few words and get comfortable talking about themselves. Resume Blitz, offered several times, attracted scores of students on each occasion. Julie Way, assistant director for career development education, even had to put out a call on more than one occasion for more volunteers to help review resumes. "The demand is so strong, and that's a good thing," she said. "It means our students are getting ready for this as best they can. I'm very thankful to everyone who volunteered their time to make this happen, too. This is something all of Tech gets behind."
By the time the big day arrived, few students look nervous. More than anything, they look ready, a sea of suits where normally there might be jeans and hoodies. Handshakes, greetings. Opportunities. That's where the noise in the SDC is coming from.
Vertical banners stand like sails across the vast ocean of the Multipurpose Room. Employers have listed what they're looking for, and for most, it's quite a long list. Aside from what types of engineers they'd like to see, signs for business, marketing, many of the sciences and more are easy to spot. One employer put it simply. "Normally we're looking for civils, mechanicals, electricals," one company rep says, referring to their need for engineers. "But we look at Tech, and honestly, we're excited to talk to all majors. There's a lot of talent here."
In the hallway between the Multipurpose Room and the Varsity Gym, a few dozen students are seated on the window sills, marking their guidebooks and figuring out how to navigate the space.
A couple of them put their guidebooks into folios stuffed with resumes and get up, walking toward the steady sound through the doorway. "You ready to go do this?" one asks the other.
"Yeah," he replies. "I've been ready."
Michigan Technological University is a public research university founded in 1885 in Houghton, Michigan, and is home to more than 7,000 students from 55 countries around the world. Consistently ranked among the best universities in the country for return on investment, the University offers more than 125 undergraduate and graduate degree programs in science and technology, engineering, computing, forestry, business and economics, health professions, humanities, mathematics, social sciences, and the arts. The rural campus is situated just miles from Lake Superior in Michigan's Upper Peninsula, offering year-round opportunities for outdoor adventure.