Survey Shows that a Michigan Tech Education Pays Off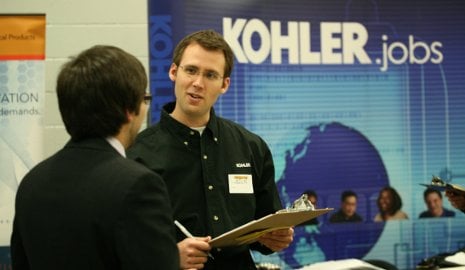 Employers like the kind of education students get at Michigan Technological University, and they're putting their money where their mouths are. The latest payscale.com survey of starting, median and top salaries for university graduates pegged Michigan Tech third in the nation among public research universities for the average starting salary of graduates.
Payscale.com surveyed a total of 1,312 colleges and universities—public and private—and more than 1.5 million employers. They were looking for return on investment (ROI), measured by the earning potential of graduates.
ROI
The results placed Michigan Tech 13th for ROI among state schools nationwide, with a typical starting salary of $61,000. The financial analysis website also ranked Michigan Tech graduates 19th in the nation for mid-career salaries.
"This underscores what employers have been telling us for a long time—that we produce graduates with outstanding academic and technical skills who are ready to hit the ground running," said President Glenn Mroz. "Employers flock to our Career Fairs, eager to hire our students. We have 340 companies registered for the Sept. 30 Career Fair, the most we've ever had. And nearly 95 percent of our graduates have jobs in their fields within six months of graduation. No wonder they are being paid well."
Payscale.com paints a very different picture than the rankings released by US News & World Report each year. By payscale.com's measures of earning potential or ROI, the top schools in the nation are not Harvard, Princeton and Yale. The ROI list is topped by the military academies, such as the US Naval Academy in Annapolis and the US Military Academy at West Point, and by science, engineering and technology-focused schools such as Cal Tech, MIT and Michigan Tech.
"Return on investment is an important measure to consider when families are trying to decide where their son or daughter should go to college," said Mroz. "People are very concerned about the cost of education, but its value is beyond words when students can match up their abilities and passions and be rewarded with solid career choices and earnings."
Michigan Technological University is a public research university founded in 1885 in Houghton, Michigan, and is home to more than 7,000 students from 55 countries around the world. Consistently ranked among the best universities in the country for return on investment, the University offers more than 125 undergraduate and graduate degree programs in science and technology, engineering, computing, forestry, business and economics, health professions, humanities, mathematics, social sciences, and the arts. The rural campus is situated just miles from Lake Superior in Michigan's Upper Peninsula, offering year-round opportunities for outdoor adventure.