Michigan Tech Fall Enrollment at All-time Highs for Female Engineering, Minority, International & Graduate Students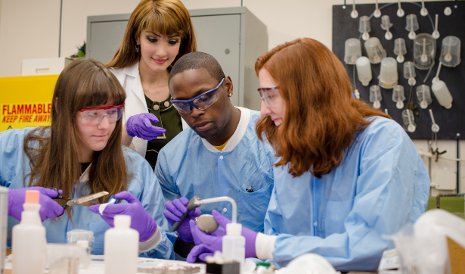 Michigan Technological University submitted its preliminary fall enrollment figures to the state this week. Enrollment totaled 7,100 this fall, up from last year and the second highest since 1983.
Female enrollment in the College of Engineering is 1,005, an all-time high at 22 percent.
Minorities
American minority students totaled 474, nearly 7 percent of the student body and another all-time high.
Graduate School enrollment also hit an all-time high this fall, at 1,442 or 20 percent of the student body. The Graduate School received 1,800 more applications this year than last.
Michigan Tech's 1,093 international students represent another all-time high.
Entering students' ACT scores averaged 27, up from 26.7 last year.
"We are extremely pleased with the enrollment numbers," said John Lehman, associate vice president for enrollment, marketing and communications at Michigan Tech. "They show that we are attracting and retaining an academically excellent and increasingly diverse student body."
Retention
Retention—the percentage of first-year students who return for their second year—was 85 percent, the highest it has been since 1993.
"We are elated with the increase in our retention numbers," said Les Cook, vice president for student affairs and advancement. "Faculty and staff across the entire university have been working to support student success, often with the help of donors. The numbers reflect that effort and commitment to helping students to be successful both in and outside the classroom. "
All state universities are required to submit preliminary enrollment numbers to Lansing during the second week of September.
Michigan Technological University is a public research university founded in 1885 in Houghton, Michigan, and is home to more than 7,000 students from 55 countries around the world. Consistently ranked among the best universities in the country for return on investment, the University offers more than 125 undergraduate and graduate degree programs in science and technology, engineering, computing, forestry, business and economics, health professions, humanities, mathematics, social sciences, and the arts. The rural campus is situated just miles from Lake Superior in Michigan's Upper Peninsula, offering year-round opportunities for outdoor adventure.