Michigan Tech Beats Fundraising Goal, Ends Year in the Black, Wins 5 NSF Career Awards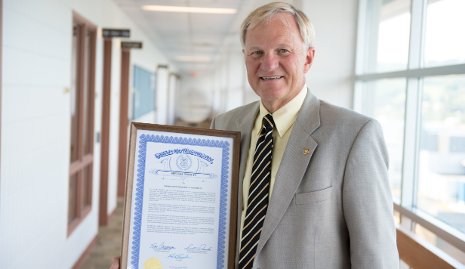 Michigan Technological University surpassed its fundraising goal for the fiscal year just ended, raising $30.94 million, Les Cook, vice president of student affairs and advancement, told the Michigan Tech Board of Trustees at its regular meeting on Aug. 7, 2014. Julie Seppala, treasurer to the Board, reported that Michigan Tech finished the fiscal year with a positive balance of nearly $17 million in its Current Fund. The Current Fund includes the General, Designated, Auxiliary, Retirement and Insurance and Expendable Restricted Funds.
State Leaders Honor Tech
State Rep. Scott Dianda made a surprise appearance at the Board meeting and presented President Mroz with a framed tribute to Michigan Tech, signed by Governor Rick Snyder, State Sen. Tom Casperson and Dianda. Dianda praised the University's recent Generations of Discovery capital campaign, which raised more than 215 million dollars. "You are the gem in our area," he said. Dianda and Casperson represent the district that includes Michigan Tech.
Provost Max Seel reported that Tech has received a $5 million grant from the Herbert H. and Grace A. Dow Foundation to spearhead development of a new and better way to teach middle-school science.
NSF CAREER Awards
David Reed, vice president for research, proudly announced that five junior faculty members received National Science Foundation (NSF) CAREER Awards during the past year. That is the largest number of Tech researchers ever to receive the eminent award in a single year. NSF CAREER Awards go to researchers who have already distinguished themselves early in their careers, to support extraordinarily promising interdisciplinary research.
"The NSF CAREER awards are very prestigious," Reed said. "We have had a number of faculty receive these awards over the years, but this is the first time we have had five in one year. Since only untenured faculty are eligible to apply for these awards, this reflects very strongly the quality of our faculty hires in recent years."
NSF CAREER Award winners at Michigan Tech during the past year are Zhuo Feng and Shiyan Hu, assistant professors of electrical and computer engineering; Mo Rastgaar and Tolou Shokuhfar, assistant professors of mechanical engineering-engineering mechanics; and Chaoli Wang, assistant professor of computer science.
Honors College
The Board heard a report on the new Pavlis Honors College, named for alumnus Frank E. Pavlis, a 1938 graduate of Michigan Tech and a dedicated supporter of the University ever since. Pavlis is flying in to attend a ribbon-cutting ceremony and celebration of the Honors College, scheduled for 3:30 p.m. Friday, Aug. 8. Lorelle Meadows, recently appointed dean of the new Honors College will attend the ceremony too.
In his opening remarks, President Glenn Mroz praised UAW Local 5000—and particularly local union president Amanda Cadwell, vice president Tina Sarazin, and Catherine Burns and Lori Weir of Tech's Human Resources department—for their pioneering efforts working with Gogebic Community College to develop a program to advance the skills of UAW members. Four classes will begin in September, and people completing the classes will receive certification.
In other business, the Board:
Recognized two employees for more than 35 years of service: Bradley Baltensperger, 40 years, and Susan Sergey, 36 years.
Granted emeritus rank to Bradley Baltensperger, retired professor and chair of the Department of Cognitive and Learning Sciences, and to Steven Seidel, a professor of computer science who died in June.
Granted appointments with tenure to two new faculty members: Min Song, professor and chair of the Department of Computer Science, and Jon Sticklen, associate professor and chair of the Department of Engineering Fundamentals.
Elected Julie Fream as Board chair and Paul Ollila as vice chair.
Appointed three members to the Michigan Tech Fund Board of Directors: Julie Fream, Terry Woychowski and Paul Ollila.
Amended a Board of Trustees ordinance related to animals on campus, to conform with US Office of Civil Rights policies.
Michigan Technological University is a public research university founded in 1885 in Houghton, Michigan, and is home to more than 7,000 students from 55 countries around the world. Consistently ranked among the best universities in the country for return on investment, the University offers more than 125 undergraduate and graduate degree programs in science and technology, engineering, computing, forestry, business and economics, health professions, humanities, mathematics, social sciences, and the arts. The rural campus is situated just miles from Lake Superior in Michigan's Upper Peninsula, offering year-round opportunities for outdoor adventure.