Michigan Tech Receives $5 Million from Herbert H. and Grace A. Dow Foundation to Reform Middle-School Science Education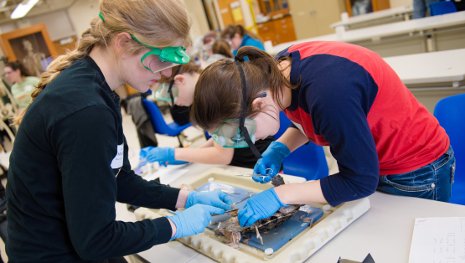 Young children are naturally curious about everything around them. They want to know how and why things work. Then, around middle school age, many of them lose that natural attraction to science and engineering.
A team of university and public school educators in Michigan say they know what's wrong with middle school science education. And, with a $5 million, three-year grant from the Herbert H. and Grace A. Dow Foundation, they intend to develop and test some solutions.
"In Michigan and most of the nation's schools, STEM instruction consists of a series of seemingly unrelated courses that require students to memorize large numbers of facts but fail to engage them in the practice of using science as a tool to address real-world problems," says Jacqueline Huntoon, a geology professor, associate provost and dean of the Graduate School at Michigan Technological University.
The Herbert H. and Grace A. Dow Foundation, based in Midland, Mich., has funded the Michigan Science Teaching and Assessment Reform (Mi-STAR) program to develop a model for reforming middle-school STEM education that will include a new curriculum supported by updated teacher education and teacher professional development strategies.
The program focuses on integrating the sciences, using a problem-based approach, cutting across the traditional disciplines of biology, physics, chemistry and earth science to emphasize core ideas and show how science can be used to address society's needs.
Huntoon will direct the Mi-STAR project in collaboration with four other Michigan Tech faculty members: Brad Baltensperger, Amy Lark, Doug Oppliger and Chris Wojick. Faculty members from Grand Valley State and Western Michigan Universities and a scientist from the American Geosciences Institute will also be heavily involved in helping the program achieve its goals.
Additional team members include representatives from schools where the pilot project will be tested: Midland Public Schools, Grand Rapids and Eaton Rapids Public Schools, and the Calumet-Laurium-Keweenaw and Houghton-Portage Township Schools. Also represented on the team will be faculty members from other Michigan universities: Saginaw Valley State, Central Michigan, Michigan State and Eastern Michigan Universities. The team will collaborate with the Michigan Department of Education, Michigan Science Teachers Association, American Chemical Society, American Institute of Biological Sciences and American Physical Society.
"Most of the members of this team have been working together for many years, and our plans are informed by our experiences in many other STEM education projects," Huntoon says.
Mi-STAR has been in the making for nearly a decade. It is a direct outgrowth of MiTEP (Michigan Teacher Excellence Program), a National Science Foundation-funded partnership among Michigan Tech and Grand Rapids, Kalamazoo and Jackson Public Schools. It builds on research conducted by the National Academies of Sciences and Engineering.
The project will test its reforms in the partnering public schools. If successful, Huntoon says, Mi-STAR will be a model for improving STEM education across Michigan and throughout the United States.
"We are excited to partner with Michigan Tech and the Mi-STAR team to improve STEM education in the Midland Public Schools and across the state of Michigan," says Brian Brutyn, associate superintendent of curriculum, instruction and assessment for the Midland Public Schools. "As STEM education continues to grow in importance, we continuously seek innovative ways to achieve related institutional and student learning objectives. This initiative promises to have a sweeping impact, as it addresses the essential components of effective instruction: engaging curriculum, aligned assessments and comprehensive teacher training."
The Michigan Department of Education (MDE) also is enthusiastic about Mi-STAR. "The Michigan Department of Education (MDE) is very excited about the potential that this project brings to our state to find ways to better align pre-service teacher training with in-service teacher practice," says Megan Schrauben, the integrated education consultant with the MDE. "We are also greatly interested in the research findings from the integrated curriculum that will be developed and used in schools. We know that this type of instruction is what the research on student engagement and achievement calls for, and it aligns well with our goals at MDE."
A Michigan Tech alumna herself, Schrauben earned a Master of Science in Applied Science Education and has worked with the University on previous science education projects, including MiTEP.
The Herbert H. and Grace A. Dow Foundation—established by Grace A. Dow in memory of Herbert H. Dow, the founder of The Dow Chemical Company—also sees great promise in Mi-STAR.
"Michigan Tech's proposal aligned with our interests and had some truly unique attributes, connecting to Midland as it does and assembling a diverse team of partners to explore new ideas and learn from each other in the process," says Macauley Whiting Jr., president of the foundation. "The University has rich expertise in STEM education and a productive history with our foundation. We are especially pleased that Michigan Tech is investing the entire amount in active programming to spur system change."
The Mi-STAR team is excited about the opportunity to partner with the foundation to develop a new model for STEM education in the middle grades, says Huntoon. "The Herbert H. Dow and Grace A. Dow Foundation has a long history of supporting science, and we are very pleased to be collaborating with them once again."
Michigan Technological University is a public research university founded in 1885 in Houghton, Michigan, and is home to more than 7,000 students from 55 countries around the world. Consistently ranked among the best universities in the country for return on investment, the University offers more than 125 undergraduate and graduate degree programs in science and technology, engineering, computing, forestry, business and economics, health professions, humanities, mathematics, social sciences, and the arts. The rural campus is situated just miles from Lake Superior in Michigan's Upper Peninsula, offering year-round opportunities for outdoor adventure.