Graduate Student's VISTA Broadens as She Earns a Degree Through Volunteer Service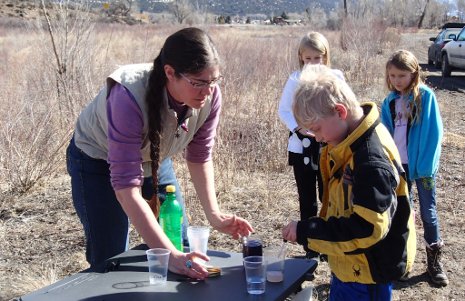 With many students thinking about what lies ahead after college, some may be thinking about graduate school or trying something completely new. But what if you could do both? Michigan Technological University offers programs that allow you to volunteer somewhere new and earn your graduate degree at the same time: Office of Surface Mining VISTA (OSM/VISTA)and the Peace Corps' Paul D. Coverdell Fellowships
Rhianna Williams is taking advantage of the OSM/VISTA program. Williams currently has a BS in Psychology and a MS in Library Science. She was working toward another master's degree in environmental and energy policy until OSM/VISTA and Tech joined hands in 2012 and turned her in a new direction. "I joined for the opportunity to practice what I'd learned in the class out in the field," she says.
VISTA, originally Volunteers in Service to America, was founded in 1965 as a national service program designed to fight poverty in the US. In 1993, VISTA was incorporated into the AmeriCorps network of programs.
The OSM/VISTA and Peace Corps Coverdell programs offer graduate students the opportunity to combine academic study with supervised, practical field experience and research. Michigan Tech has partnered with OSM/VISTA programs since 2012 and began participating in the Peace Corps Master's International program in 1995. The Coverdell Fellows are the most recent addition, enabling returned Peace Corps volunteers to do their master's degrees at Michigan Tech.
"We are the only university that works with the Office of Surface Mining for this. It also has a large service component that often involves working with local organizations," says Blair Orr, professor of forestry and director of these programs at Michigan Tech.
VISTA Program
Accepted students do a program of on-campus academic work and a short pre-OSM/VISTA pre-service orientation. Then they participate in one year of OSM/VISTA service at a location in the US, coordinated by either the Western Hardrock Watershed Team or Appalachian Coal Country Team. Then they return to campus to complete their remaining degree requirements. Upon completion of the program, students can earn a master's degree in civil engineering, environmental engineering or geology through the OSM/VISTA program and a master's degree in applied ecology, biological sciences, environmental and energy policy, forestry or industrial archaeology through either the Peace Corps Fellows Program or the OSM/VISTA program.
Williams works as the education and outreach coordinator with the Uncompahgre Watershed Partnership, which is sponsored by the Western Hardrock Watershed Team. She primarily conducts watershed education programs in the schools and monthly water sampling for Riverwatch, a group that monitors the river's conditions along a 10 mile stretch of the Upper Uncompahgre River.
"I've enjoyed working with kids," she says. "We work with local third grade teachers to take the class out water sampling every month. They were really excited to know that the data they collected would be used to make decisions about their river."
In addition to her education efforts, Williams writes a monthly newsletter and maintains the website and social media outreach. She helped with the organization and planning of an annual watershed celebration, Ridgeway River Festival.
"It can be rewarding," Williams says about her OSM/VISTA experience. "And the nice thing about the Western Hardrock Watershed Team aspect of it is that you are networked into a team around the area that you can reach out to for help, even if you're not working with them daily. Though, like any internship, you do need to weigh the benefits of the experience with the time and effort put in."
OSM/VISTA may be just the experience that college graduates interested in earning a master's degree and doing community service have been looking for, says Orr. " Broaden your horizons and see what's there," he urges.
Michigan Technological University is a public research university founded in 1885 in Houghton, Michigan, and is home to more than 7,000 students from 55 countries around the world. Consistently ranked among the best universities in the country for return on investment, Michigan's flagship technological university offers more than 120 undergraduate and graduate degree programs in science and technology, engineering, computing, forestry, business and economics, health professions, humanities, mathematics, social sciences, and the arts. The rural campus is situated just miles from Lake Superior in Michigan's Upper Peninsula, offering year-round opportunities for outdoor adventure.