Peace Corps Ranks Michigan Tech Tops in the Nation—Again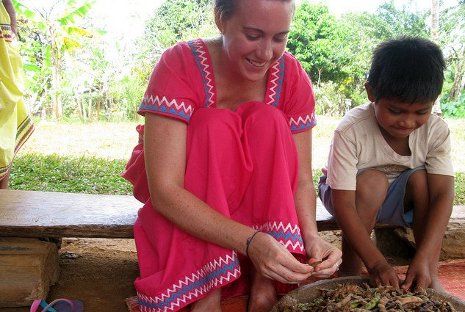 For the ninth year in a row, Michigan Technological University ranks as the number one university nationwide for the number of Peace Corps Master's International (PCMI) students currently serving as Peace Corps volunteers. Michigan Tech has 32 graduate students overseas, earning the University top spot on the Peace Corps' annual ranking of PCMI and Paul D. Coverdell Fellows graduate schools.
Michigan Tech has 8 different PCMI programs in three colleges and schools and two more under development. The Peace Corps said that is the largest number of PCMI programs at any university in the nation.
In the PCMI program, students incorporate Peace Corps service as credit toward their master's degree. The Coverdell Fellows Program provides returned Peace Corps volunteers with scholarships, internships in underserved American communities, and stipends to earn an advanced degree after they complete their Peace Corps service.
"One of Michigan Tech's primary goals is to conduct innovative research and education that promotes sustainable economic and social development worldwide," said Michigan Tech President Glenn Mroz. "Our Peace Corps Masters International Program is clearly achieving that goal. It speaks to Michigan Tech's commitment that a school the size of ours is consistently first in the nation in the number of Peace Corps volunteers."
Carrie Hessler-Radelet, acting director of the Peace Corps, said the Peace Corps' partnership with colleges and universities creates invaluable opportunities for students to apply what they've learned in the classroom to real-life situations. "This hands-on experience along with the cross-cultural, language and technical knowledge that come from living and working abroad uniquely prepares students to succeed in today's global job market," she remarked.
Since Michigan Tech became a PCMI partner in 1995, more than 140 graduates have earned graduate degrees through the program. The University's 10 PCMI programs (including two under development) attract global-minded students to the university, while helping Peace Corps meet host country needs for skilled professionals to serve and assist communities in key areas of need, such as agriculture and food security, environmental conservation, water and sanitation, public health, and education and English teaching.
PCMI programs at Michigan Tech include Applied Science Education, Geological and Mining Engineering Sciences, Mechanical Engineering, Rhetoric and Technical Communication, Biological Sciences, Civil and Environmental Engineering, Applied Natural Resource Economics, Forestry, and two under development: Electrical and Computer Engineering and Computer Science.
"We have an amazing group of students who enter our program each year from all walks of life," said Kari Henquinet, director of Michigan Tech's PCMI program. "They are not only dedicated academically, but also able to apply what they have learned to problem solve and work collaboratively on the ground. Our Master's International programs are set up to produce scientists and professionals who think creatively, understand social problems and function in multiple cultures. Our graduates go on to work for places like USAID, environmental engineering firms, and non-profit groups such as Doctors Without Borders."
Michigan Tech also offers a Coverdell Fellows program for returned Peace Corps volunteers looking to further their education while continuing to make a difference here at home. Michigan Tech Fellows can choose between graduate degrees in biological sciences, forestry, applied ecology, forest ecology and management, forest molecular genetics and biotechnology, environmental policy, and industrial archaeology.
Michigan Tech's PCMI graduate students have applied their skills and knowledge gained in the classroom to sustainable, community-driven development projects in 52 countries including Armenia, Bolivia, Ethiopia, Fiji, Kenya, Madagascar, Nepal, Paraguay, Senegal, Tanzania, Ukraine and Zambia.
More than 208 Michigan Tech alumni have served in the Peace Corps overall. Michigan is among the top-producing states for volunteers, and 271 Michigan residents are currently serving in the Peace Corps. Overall, 6,988 Michigan residents have served since the agency was created in 1961.
Top five Master's International universities and colleges:
(The number in parenthesis represents the number of students enrolled in the program and serving overseas as of September 30, 2013.)
1. Michigan Technological University (32)
2. Monterey Institute of International Studies (25)
3. Tulane University (24)
4. University of Denver (22)
5. University of South Florida (21)
Michigan Technological University is a public research university founded in 1885 in Houghton, Michigan, and is home to more than 7,000 students from 55 countries around the world. Consistently ranked among the best universities in the country for return on investment, the University offers more than 125 undergraduate and graduate degree programs in science and technology, engineering, computing, forestry, business and economics, health professions, humanities, mathematics, social sciences, and the arts. The rural campus is situated just miles from Lake Superior in Michigan's Upper Peninsula, offering year-round opportunities for outdoor adventure.