Michigan Tech's Industrial Research Gains Stature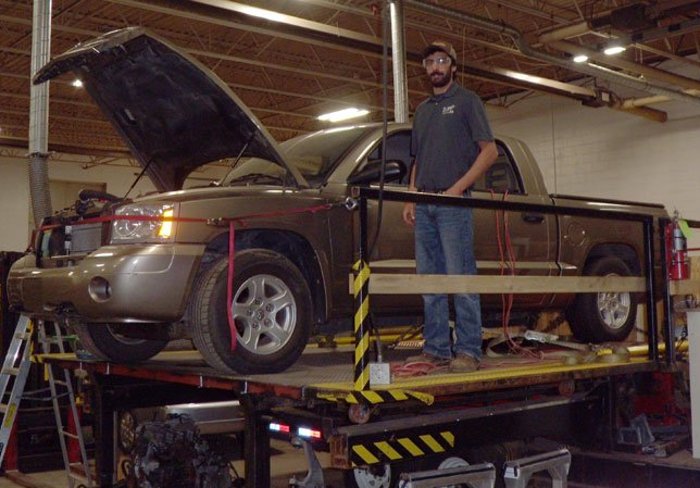 Known for hands-on education and leading-edge research, Michigan Technological University's stature among institutions has earned another important distinction: its proportion of industry-sponsored research, compared to other schools in the state and nation. According to National Science Foundation Higher Education Research and Development (HERD) data, Michigan Tech ranked second in the state among public institutions and is in the top 15 percent in the nation among 650-plus universities.
Why is this important?
"It means that, in addition to finding some of the next greatest discoveries, we do research that is relevant," said Jim Baker, executive director of Innovation and Commercialization at Tech "And these same industry partners hire our graduates."
Undergraduate and graduate students are routinely involved too. "Especially under our Senior Design and Enterprise programs," said Beth Hoy, assistant director for operations and outreach for corporate partnerships. "Students learn the latest research in their classrooms and labs."
As one good example of industrial research on campus, Jeff Naber, professor of mechanical engineering-engineering mechanics, cites a consortium begun last year that includes Cummins, Detroit Diesel, John Deere, Johnson Matthey, Dow Corning and Tenneco, possibly with more to come. He says it reflects some 40 years of industrial research at Michigan Tech.
"You can credit John Johnson [research professor and professor emeritus]," he said. "Especially our work in diesel emissions."
Another example is Ford Motor Company, which uses the "wide breadth of research available," according to Naber. "We're doing testing with spray and combination diagnostics to see how things work and validate analytical models used in engine design."
In a true team approach, Naber works with Ford engineers, meeting weekly with lots of back and forth.
"We also routinely involve a student and staff person with each faculty member working on a project," Naber says. Often, it's part of the Advanced Power Systems (APS) Lab, a multidisciplinary collaborative of facilities and resources that fosters research efforts in developing clean, efficient, sustainable power-systems technologies.
Within the APS Labs, for example, master's student Henry Schmidt does diagnostics for Illinois Tool Works (ITW) via the Vehicle Research Lab, including a rolling chassis dynamometer, vehicle hoist and automotive shop. He diagnoses deposits as part of his master's thesis, working under principal investigator Jeremy Worm, a research engineer in mechanical engineering.
Schmidt evaluates a four-stage chemical cleaning process and an automotive diagnostic tool by looking inside the engine before and after testing, especially examining the induction system.
"First, we looked at four different vehicles—V-8, four-cylinder, cars, SUV—off a used car lot," Schmidt said. "They had lots of deposits. We take the engine apart, quantify the amounts by weight, put it back together, use the ITW cleaner, and repeat the process. We test the performance before and after."
They look for a correlation between the deposits and fuel economy, idle quality and power output, he said.
In a similar study for ITW, the APSRC used 34 vehicles from all over the Keweenaw, including a test group and control group.
"We tested the volunteers' vehicles, chemically cleaned the test group's engines, then let the volunteers drive their vehicles to consume a tank of fuel," Schmidt said. "Then we brought the volunteers' vehicles in again to evaluate the effectiveness of both ITW's diagnostic tool and the chemical cleaning process."
The results of the test are still under investigation, but Schmidt learned something else.
"The people in the community were great to work with," he said. "Some even said they didn't want the $50 gift card we were offering."
It's been interdepartmental work, too, Schmidt pointed out. Materials science and engineering staff grant him access to their scanning electron microscope to "get great images of the valves. You can clearly see the surface deposits."
In another industry-university effort, Nostrum Energy has two to three engineers regularly on site at the APS Lab, as they work on advanced engine technologies. Meanwhile, Ford, GM and Cummins all have engines at Tech for research.
More evidence of industry/Michigan Tech interface appears in the work of Tim Eisele, assistant professor of chemical engineering, who offers undergraduate research for course credit. He's had a couple of projects that paid quick dividends to companies.
"For US Zinc in Coldwater, Mich., we were able to reclaim their product," he says. "It was a simple, two-part procedure: roll crusher and then screening that separated zinc flakes. We were able to recover all the zinc from their waste."
Many of the projects are confidential, at least for a while.
"Then we get to the end, and some will say, 'This isn't something we are proprietary about anymore. You can mention us in the results,'" Eisele said.
As for the future, Naber wants to expand the APS Labs, and he envisions more short courses via the mobile lab that can take Michigan Tech to companies to educate their engineers. Employees at DENSO, John Deere and Ford are presently getting schooled specifically to work with their technology and expand their knowledge in a specific area.
"Again, thanks to the breadth of our capabilities on campus, we can take what we deliver to our students and deliver to industry," he said.
Michigan Technological University is a public research university founded in 1885 in Houghton, Michigan, and is home to more than 7,000 students from 55 countries around the world. Consistently ranked among the best universities in the country for return on investment, the University offers more than 125 undergraduate and graduate degree programs in science and technology, engineering, computing, forestry, business and economics, health professions, humanities, mathematics, social sciences, and the arts. The rural campus is situated just miles from Lake Superior in Michigan's Upper Peninsula, offering year-round opportunities for outdoor adventure.