Fang, Pokharel Receive Rath Award for Breakthrough Method of Purifying Biomolecules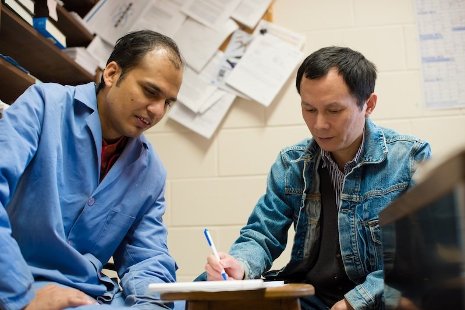 For their groundbreaking system to purify synthetic peptides and DNA, chemist Shiyue Fang and PhD candidate Durga Pokharel have received Michigan Technological University's Bhakta Rath Research Award.
The award, endowed by 1958 alumnus Bhakta Rath and his wife, Shushama Rath, recognizes a Michigan Tech doctoral student and advisor for "exceptional research of particular value that anticipates the future needs of the nation while supporting advances in emerging technology."
With Pokharel, Fang, an associate professor of chemistry, developed a quicker, simpler way to purify synthetic peptides and DNA sequences.
Peptides have the potential to fight some of the most intractable diseases, and DNA is a critical element of gene therapy. However, both can be difficult and expensive to make.
Fang's technology separates perfect molecules from those that do not make the grade. During peptide production, amino acids attach to each other in chains to form the desired peptide, but some of the chains are never completed. To separate these truncated peptides, Fang and Pokharel added a polymerizable group of atoms to the mix.
These atoms bind to either the perfect peptides or the unfinished ones, but not to both. The polymerized peptides become insoluble and precipitate out of the solution. "Just take the solution out, and the peptides are separated," said Fang.
The method works in about two hours. A similar technique works equally well for DNA sequences.
Fang credits Pokharel's thoughtful diligence for much of the projects' success.
"Durga is truly vested in the work, and anytime there is a problem, even a minor one, he lets me know right away and explains the fine yet important details accurately, so we can discuss it and try different solutions," Fang said. "Communication is so important, and not all graduate students realize that."
Pokharel also has an exceptional work ethic. "He is always focused, always reliable, and always in the lab," said Fang. "And he's very efficient. These projects wouldn't have been accomplished to this level without him."
Pokharel's accomplishments are even more noteworthy because his efforts were unfunded. He is supported as a graduate teaching assistant, not a research assistant, and thus juggled instructional responsibilities with time in the lab.
"And he's very friendly and cooperative," Fang added. "He shared a desk, and sometimes the labs are quite crowded, but he never complained. He is really a great student."
Fang and Pokharel will share the $2,000 prize.
Michigan Technological University is a public research university founded in 1885 in Houghton, Michigan, and is home to more than 7,000 students from 55 countries around the world. Consistently ranked among the best universities in the country for return on investment, Michigan's flagship technological university offers more than 120 undergraduate and graduate degree programs in science and technology, engineering, computing, forestry, business and economics, health professions, humanities, mathematics, social sciences, and the arts. The rural campus is situated just miles from Lake Superior in Michigan's Upper Peninsula, offering year-round opportunities for outdoor adventure.