International Night 2014: A Student's View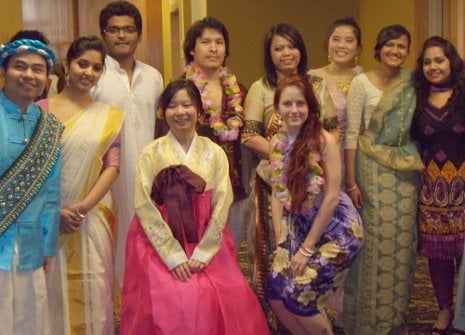 The Memorial Union Ballroom is lit with festive colors. Tables are set for dinner around a stage at the front, and televisions display a welcome message. People mill about finding tables and talking with others, some meeting for the first time. They are about to share a meal and travel across the globe for International Club's International Night 2014.
I-Night is taking people on a journey to experience the different cultures at Michigan Tech through food and entertainment.
Before the performances starts, guests are treated to a buffet where they could sample Iranian pudding, French bacon quiches, curried chicken, a meat pie called fleischkuekle and Thai iced tea. And those are just some of the international dishes. Guests fill their plates and dig in. One student remarks that the copious amount of food is fantastic and some dishes are "really spicy." The "pilot" for the night's travels, Karn Saipong, moves from table to table, mingling with guests, and the atmosphere is happy and lighthearted.
The excitement level increases once the performances begin, as Saipong and his "flight attendant," Ashima Chhabra, take guests on a journey that starts with a fashion show in Milan, showcasing different traditional dress styles of the countries represented. Women in beautifully colored dresses move down a runway while the audience claps and cheers.
The performances include a swing dance from North America, an Aikido presentation, Finnish songs, an exciting Bollywood dance (that the audience loves), an original song titled "Love Without Borders" in an Argentinian theme, salsa dancing performed by Nosotros and Chinese hip hop.
One of the most exciting moments of the night is an African rhythm performance by the Keweenaw Community Drum Project. Guests are invited to come to the floor and join in through dance or drum. The riveting music manages to bring the whole room together.
The night ends with a rendition of the 2010 FIFA World Cup theme song, "Waka Waka." All of the acts come together for one big finale that has the audience dancing so much that the floor is shaking.
Afterwards, I-Club advisor Cassy Teft said, "I think the night went great! The new leaders came together not only to put together a wonderful event, but also to significantly expand I-Club's role both on campus and in the community.
"I think that entire night was very symbolic of what I-Club stands for, which is the unification of all cultures from around the globe, including those of the local community," she said. "It reinforces the message that no matter where we come from, there are always things we have in common that bring us together, whether they be love, food, music or soccer."
Michigan Technological University is a public research university founded in 1885 in Houghton, Michigan, and is home to more than 7,000 students from 55 countries around the world. Consistently ranked among the best universities in the country for return on investment, the University offers more than 125 undergraduate and graduate degree programs in science and technology, engineering, computing, forestry, business and economics, health professions, humanities, mathematics, social sciences, and the arts. The rural campus is situated just miles from Lake Superior in Michigan's Upper Peninsula, offering year-round opportunities for outdoor adventure.