Reaching for the Future at Society of Women Engineers Conference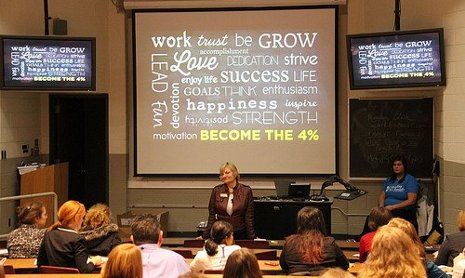 Watching this year's Super Bowl, you may have seen the commercial for a new initiative toy for young girls: Goldieblox. The toy encourages girls to build and engineer and to challenge the lack of women going into science, technology, engineering and mathematics (STEM) fields.
According to the US Department of Commerce, women hold less than 25 percent of STEM jobs. At Michigan Technological University, less than 21 percent of engineering undergraduates are women.
But, toys aren't the only way to encourage female interest in STEM.
Earlier this month, Michigan Tech hosted more than 700 women from Illinois, Indiana, Iowa, Michigan, Minnesota, North Dakota, South Dakota and Wisconsin, as well as Michigan. They came to attend the 2014 Society of Women Engineers (SWE) Region H Conference. Tech's SWE chapter won the bid to host the conference, titled "Extracting the Elements" and including keynote speakers, sessions on professional development and a Career Fair.
SWE's mission is to stimulate women to achieve their full potential in careers as engineers and leaders, to expand the image of the engineering profession as a positive force in improving the quality of life and to demonstrate the value of diversity.
Women in STEM fields—and the lack of them—was a main topic at the conference, not surprising, since 98 percent of the attendees were female. Many described discrimination in the field, but the women at Michigan Tech offered other perspectives.
"Sure, I've felt discriminated against as a woman studying and working in engineering," said Melissa Galant, a third year double major in materials science and engineering and mechanical engineering. "However, I've noticed that most of the time, it was brought on because we (women) separate ourselves from the rest of the engineering population, or we separate other women. At the end of the day, we're all just people and students and capable of achieving anything we set out to do."
Kerstin Cleveland, a fourth year chemical engineering and pharmaceutical chemistry major, added, "In the job force, it's important to keep your individuality—to not become one of the guys. There's a reason women are successful in engineering. And it's usually not because they blend in with the men."
The conference helped women develop themselves personally and professionally. "The SWE conference helped me grow as a woman engineer by allowing me to hear women who have worked their way up to leadership positions in the engineering field and getting advice on how handle different situations that come up in the work place," said Mercedes Bohr, a second year mechanical and electrical engineering major.
"[It] brought together women from all stages in their career, and it was a forum to swap stories, ideas and advice to improve yourself as a person, a female and engineer," Cleveland added.
Conference attendees have high hopes for the future. "What I look forward to in STEM is to see the percentage of women grow, knowing that there will be more equal ideas, rather than having an all female, or male, controlled industry," said Adrienne Piron, a third year electrical engineer.
With their ambition and determination, SWE is one of the keys to making that happen.
Michigan Technological University is a public research university founded in 1885 in Houghton, Michigan, and is home to more than 7,000 students from 55 countries around the world. Consistently ranked among the best universities in the country for return on investment, Michigan's flagship technological university offers more than 120 undergraduate and graduate degree programs in science and technology, engineering, computing, forestry, business and economics, health professions, humanities, mathematics, social sciences, and the arts. The rural campus is situated just miles from Lake Superior in Michigan's Upper Peninsula, offering year-round opportunities for outdoor adventure.