Closing the Gender Gap: Michigan Tech Recruitment Initiatives Aim to Attract Female Students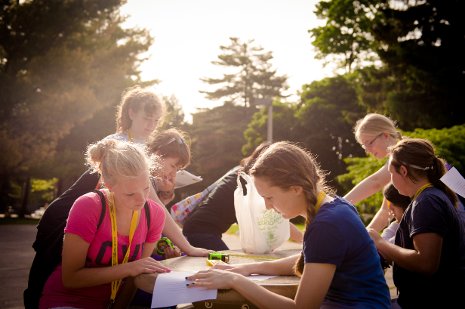 Michigan Technological University is about to get a sneak peek into its own future. Thanks to the Society of Women Engineers (SWE) regional conference set for this weekend, Michigan Tech's campus will see an influx of nearly 700 women—providing a preview of the school's male-to-female ratio goal for the year 2020.
Women have typically been underrepresented in science, technology, engineering and mathematics (STEM) fields. In 2009, women held just 24 percent of science and engineering positions in the country, despite making up nearly half of the college-educated workforce.
At Michigan Tech, the number of female students has gradually risen in recent years—from a 23.8-percent female student body in 2004 to 26 percent in 2013. But that's still nearly 10 percent below where Tech aims to be by the end of the decade.
Linda Ott, professor of computer science, knows firsthand the challenges of attracting women to typically male-dominated fields. Since computer science is one of the academic departments where gender disparity is most prevalent, she is doing her part to recruit as many new female students as she can.
Michigan Tech's computer science department was recently selected to participate in the National Center for Women and Information Technology (NCWIT) Pacesetters program, which is designed to increase women's participation in computing disciplines in quantifiable ways.
NCWIT Pacesetters is a two-year program in which senior leaders from companies and universities publicly commit to increasing the number of women in computing.
"Given the short duration of the program, we're being encouraged to get results in a very fast timeframe," says Ott. "We've been focusing our efforts on increasing the number of admitted females. One of the biggest successes we're seeing is in providing opportunities for prospective students to interact with alumnae. The alumnae can answer questions about careers, social life in college . . . anything the student wants to know."
Often, that interaction with an alumna is the first time prospective students have actually encountered a female professional in computing, Ott says. Establishing a personal connection is of utmost importance when it comes to successful female recruitment into STEM fields, she adds.
"Sometimes it's the girls that need convincing and sometimes it's their parents. Both need to know about career opportunities—the careers where they can do things that make a difference, solve problems and create new stuff. Women often gravitate toward fields where they think they can help people. We're working to show prospective students that STEM, and computer science in particular, is a great place to do that."
Michigan Tech doesn't just focus women's recruitment initiatives around computer science, though. One of Tech's most successful outreach initiatives, Summer Youth Programs (SYP), gives middle- and high-school students weeklong, on-campus experiences of college life. One program, Women in Engineering (WIE), introduces young women to the nine engineering disciplines offered at Tech and shows attendees what life is like as a STEM college student.
"Our participants get to tour our labs," says Steve Patchin, director of Summer Youth Programs outreach. "They get to see behind-the-scenes stuff. They get to tour departments. They get to meet with role models who are actually working in industry. It's a very exciting step for them because it makes them feel like, okay, now I belong."
Kathryn Dimaria, a high school sophomore from Mt. Pleasant, Mich. who participated in WIE last summer, agrees.
"I liked being around other girls who were interested in engineering because back home, I feel like I'm the only one," says Dimaria. "It's kind of strange being around people who like what I like, but it's really cool too. It's so nice to feel like I'm part of a group that understands what I really like."
Not surprisingly, stories like that are music to Patchin's ears.
"It doesn't matter where the WIE participants end up going to college in the long run," he says. "What matters is they figure out what they want to do. It would be nice if we got them all, but the numbers we are getting are constantly increasing, as far as matriculation to Michigan Tech."
Kerstin Cleveland, a chemical engineering senior (and co-organizer of the SWE regional conference), was introduced to Michigan Tech at a Summer Youth Program about robotics.
"I knew I was going to be a chemical engineer since I was in about seventh grade," she says. "When I came to Tech for SYP, I was the only girl in my robotics camp. It was kind of fun to beat all the boys in my class."
Fast-forward a decade. After four years of undergraduate study at Tech, Cleveland says her experience with the gender gap hasn't been much of a challenge, thanks to the abundant resources and opportunities for female students.
"Being a girl in a primarily male field isn't a bad thing," she says. "In the job force, it's only going to be worse. Tech has taught me that it's important to keep your individuality, to not just become one of the guys. There's a reason women are successful in engineering. And it's not because we just blend in with the men."
Michigan Technological University is a public research university founded in 1885 in Houghton, Michigan, and is home to more than 7,000 students from 55 countries around the world. Consistently ranked among the best universities in the country for return on investment, the University offers more than 125 undergraduate and graduate degree programs in science and technology, engineering, computing, forestry, business and economics, health professions, humanities, mathematics, social sciences, and the arts. The rural campus is situated just miles from Lake Superior in Michigan's Upper Peninsula, offering year-round opportunities for outdoor adventure.