We Are Carnival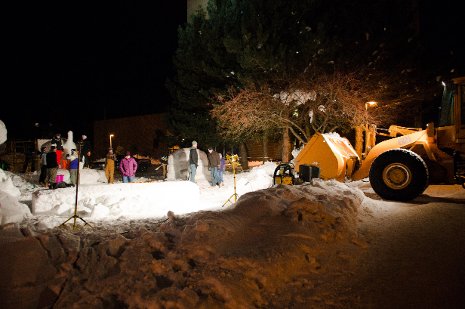 Two Weeks Before
He's breathing hard as he thinks about it, winded. It's cold. They're all wearing ski goggles.
"About ten minutes," he pants. "That's about the limit."
As the statue teams have been building throughout January, the morning sun—when we can see it—means the temperature is going to go down a few degrees, not up. The cloud cover at night is warmer, helped by the strings of lights floating above each statue site.
"Maybe by lunch we can stay out for twenty minutes. But we're not getting much done. We're more productive at night. It's kind of a grind."
Carnival week is coming. It's the coldest winter in decades.
"It's my last year, though. I want it to be really good." Pause. "Is it really colder this year?"
Forms rise across the site, the first bits of carving underway once the plywood and metal are hauled away. They're behind schedule. Shrug.
It's cold.
Monday
The big week. Bits of identifiable cartoon and film characters are popping out of the snow. We had a respite for a few days, but we're back below zero. Progress has been slow. There are more hands out working, trying to catch up.
"It's the first time," he pants, "that we've had to ask facilities to remove snow."
We've had more than 200 inches of snow so far. They're chiseling away, some tools like machetes, hints of their theme starting to emerge. The site looks like something other than a scattering of Lego bricks.
"What, three days left? I think we can do it."
"Yeah, we'll be working around the clock to make sure, but we'll get it done. 8am Thursday we can sleep."
Wednesday
The big day. The morning of. Festivities start in a few hours. It's 1 degree F outside, but the air is warm enough without any wind. The City of Houghton is out clearing the streets and sidewalks around campus. Businesses downtown are attempting to clean windows without having their purple or blue washing fluid freezing. Jim's Foodmart has all hands on deck.
On campus, there seem to be fewer people out than a normal day. There are open parking spaces. Just a few minutes before noon and the food mall in the MUB doesn't have a line.
Outside, Facilities is getting everything in place. The broomball courts are quiet, the walkways mostly deserted.
The whole campus is charging up. It's still a few hours yet.
The All-Nighter
Ghost pepper hot chocolate. Pasties. Walking tacos. Most of the menus are assembled, steam rising from pots and grills. The speaker wall is almost done, some bits of plywood still showing, lights tested and a dance floor ready, and the center of campus is starting to fill up. The All-Nighter statues are underway.
"Does your water work?"
It's 2 degrees. One team is using a drawer from a filing cabinet to make snow bricks. Almost every site has someone looking like they're stomping grapes. Sniffles. Coughing. There's a lot of tonight left.
Diesel engines echo through campus. Facilities is hard at work moving the right kind of snow to each site. Frozen hose spigots abound.
"We nailed that thing with a blowtorch and still only got a few drips."
It's getting warmer as the evening wears on, the grey light of day fading to midnight blue and then away from our attention altogether.
The statue is taking shape.
"Not bad," he says. "There's more to do, obviously, but I want to spend just a few minutes walking around. I want to see it all since it's my last one as a student, you know?"
Primetime
Progressive house music is a lot like its rock music counterpart: it just kind of goes for a bit, the beat never really stopping, just sliding from song to song. The full crew is out working now, a couple of dozen strong. The booming bass out the back of a Jeep is almost but not quite overloading the speakers. It rolls on through the night.
Mid-campus has the same feeling, just different tracks, different ideas, and different statues. The speaker wall is up and booming. Between the sounds bouncing off the buildings and the kaleidoscope of worklights, each statue is a kind of nightclub all its own.
It's up to 4 degrees.
Down by DHH, statue teams battle with broomball spectators for space. The energy is even higher down here. Brighter, like all the lights from campus are casting down on the game.
"COME ON!" She slams her duct-taped broom-like object on the boards as another shot goes wide.
Up by one, but who is who is tough to tell from the sidelines. They're all dressed more or less the same.
"Come on," more quietly. "Just a few more minutes."
Sometime After Midnight
"You coming?"
Cold. The coffee passing quickly from scalding to lukewarm. Sleep seems like a week ago. It's almost spring break. Have to order a cap and gown. Career Fair in a couple of weeks. Co-op was talking about a job offer. Can we both get jobs there? Or in the same city? What happens next?
"Come on, you've been up for like twenty hours. Let's head back and get this thing finished."
"Just a few more minutes."
We are Winter Carnival
The All-Nighter doesn't show the scope of Carnival. The Queen ceremony has already happened, the newly crowned preparing for her ceremonial Zamboni ride. Ice bowling was Tuesday night down at the Dee Stadium. There's curling in Calumet, ice fishing in Chassell, human dogsled races. A comedy show. Snow volleyball. The skits. The two most-vocal hockey games of the season. The torchlight parade. And about a half mile of winter celebration.
What we know, even if we don't say it, is that Carnival isn't just a place or an event. It isn't a time. It can't be understood with a glance and a few minutes.
"It's kind of us. It's this."
Look down the center of campus, and it isn't some food carts, some statue building, a tournament and a few other distractions. It isn't a county fair. Carnival has these things, but it isn't these things itself.
"It's what we do."
You can't come to Tech just once and see Carnival and get it. Or even twice. You can't just walk around the All-Nighter and understand. It's more than that. Because it's also in the alumni coming back and remembering. It's in taking a break on the couch, getting feeling back in fingers and toes before going out chipping and ironing some more. It's every single moment for every single person.
Any group of students is welcome to wander out somewhere and build sculptures in the snow any time they want. Carnival is not what they build. It's not who gets voted for what. The same way it's not who wins broomball or who the comedian is.
When we try to say what Carnival is, we're giving the wrong answer. Because every year, every wave, every smile, every laugh, every hug, every bleary-eyed morning, what we see is that Carnival is us.
No single one of us can experience all that is Carnival. No single one of us makes Carnival happen. The music goes on because we want it to, changing with the years as we come and go. It's life distilled into a week: we're a part of it; we grab all of it that we can, and each one of us changes it just a bit for the next crew that comes along.
We are Carnival.
Michigan Technological University is a public research university founded in 1885 in Houghton, Michigan, and is home to more than 7,000 students from 55 countries around the world. Consistently ranked among the best universities in the country for return on investment, the University offers more than 125 undergraduate and graduate degree programs in science and technology, engineering, computing, forestry, business and economics, health professions, humanities, mathematics, social sciences, and the arts. The rural campus is situated just miles from Lake Superior in Michigan's Upper Peninsula, offering year-round opportunities for outdoor adventure.