Zombies Are Coming to Michigan Tech!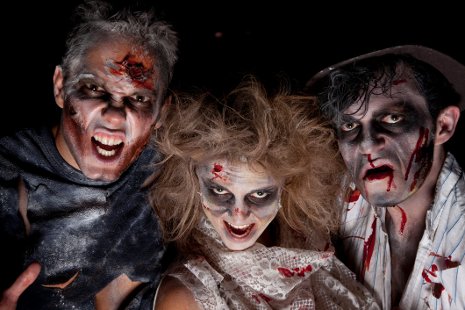 They grace the covers of magazines. They star in a hit television series. And, they are featured in a popular new game on campus. Although from the world of the undead, zombies have certainly been enjoying their new star status. Now, there's another venue to celebrate them—"Undead U: A Zombie Symposium," set for 7-9 p.m., Friday, Nov. 1, on the campus of Michigan Technological University.
Undead U is the brainchild of Syd Johnson, assistant professor of philosophy at Michigan Tech.
So, why are zombies popular again, and why the symposium?
"'Night of the Living Dead,' a low-budget movie in the 1960s, started it all," Johnson says. "Back then, there were fears about nuclear disasters. We still have fears of plague, disease and death. There have always been worries of losing control and losing our minds." Zombies play on these fears.
Their popularity might also be in response to our overexposure to vampires, the glamorous monsters, she says. Zombies are clearly non-glamorous.
Johnson taught an ethics class using zombies to help students think about what it means to be human and other moral dilemmas.
"If zombies used to be human, are they still human?" she asks. "And how do we treat them if they are? How can you kill something if it's already dead?" Some of the students' answers ("Kill them to save others") have to do with obligations to other living people, but . . .
"What about when your mom becomes a zombie?"
The students are presented with scenarios for morality, Johnson says. "What are the rules of conduct when the government's gone, when society is gone? Do you look out for number one or for the group?"
It all relates back to the big questions: Are zombies people, and what is it to be a person?
"That's where I approach it as a bioethicist," she says. "Are zombies just severely brain-damaged people? Can we make ad hoc declarations such as 'They are different, and they don't matter?'"
That's the kind of dilemma that lends itself to academic analysis, hence this symposium offered the day after Halloween, in the midst of Mexico's Day of the Dead observances.
Also featured at Undead U will be John Dahl from the University of Minnesota-Duluth, a biologist who studies organisms that mimic zombification: bacteria, parasitic wasps, viruses.
"We can draw biological parallels with mad cow disease and other diseases that affect the brain," Johnson says.
Presenter Adam Feltz, of Michigan Tech's cognitive and learning sciences department, will combine psychology and philosophy in an analysis of why zombies are so appealing.
Kette Thomas, of Michigan Tech's humanities department and a scholar on Haitian zombies, will explore the zombie in mythological context.
"I want the symposium to be fun, a little bit serious and educational, too," Johnson says.
Undead U: A Zombie Symposium will be held Friday, Nov. 1, in Room 641 of the Dow Environmental Sciences and Engineering Building, from 7 to 9 p.m. Admission is free and open to the public. In conjunction with the symposium, the Northern Lights Film Festival will show Shaun of the Dead on Sunday, Oct. 27. News and updates are available at www.facebook.com/undeadu.
Michigan Technological University is a public research university founded in 1885 in Houghton, Michigan, and is home to more than 7,000 students from 55 countries around the world. Consistently ranked among the best universities in the country for return on investment, the University offers more than 125 undergraduate and graduate degree programs in science and technology, engineering, computing, forestry, business and economics, health professions, humanities, mathematics, social sciences, and the arts. The rural campus is situated just miles from Lake Superior in Michigan's Upper Peninsula, offering year-round opportunities for outdoor adventure.