Science is Spelled Excitement during STEM Awareness Month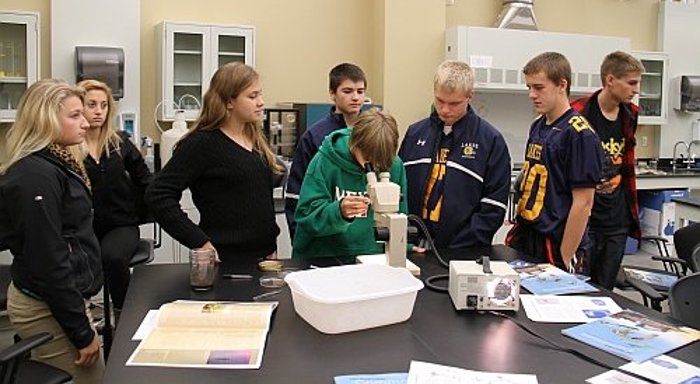 Children running around with huge smiles on their faces, the sound of laughter and tons of exclaimed "whoas" is typically a scene from an amusement park. Or in Michigan Technological University's case, a Science and Engineering Festival.
October is STEM (Science, Technology, Engineering and Mathematics) Awareness month in Michigan. All month long, events have been held across the state, and right here in the Copper Country, to help youth become more interested in STEM subjects.
The Great Lakes Research Center (GLRC) hosted a Water Festival for 300 high school students, grades 9-12, from schools as far away as Ironwood. The students had the opportunity to learn about Lake Superior from the deck of the Agassiz research vessel. They collected water samples and brought them back to the GLRC for analysis. Students also designed a process to clean "dirty" water, learned about using social media to engage the public in Great Lakes stewardship, designed remotely-operated vehicles to map invasive aquatic species, and much more.
"The goal is to make students aware of the diverse careers in STEM fields and to get ideas of what to study in high school, so they are prepared for different college majors," said Joan Chadde, education and outreach program coordinator for Michigan Tech's Center for Science and Environmental Outreach.
The Science and Engineering Festival, which was held in the Memorial Union Building, gave nearly 400 students in grades 3-5 a chance to see how captivating STEM subjects can be. Tech students from Mind Trekkers and several student organizations, including Tau Beta Pi, Society of Women Engineers, Wetland Society, Railroad Engineering & Activities Club and others on campus volunteered their time to show the younger students how science and engineering can be fun.
First-year electrical engineering student Matthew Miller showed students how to form a cloud in a bottle. He sprayed some water into a jug to create water vapor, lit a match to create dust and applied pressure using a bicycle pump. Once the cork was removed from the jug, a cloud formed in the jug. The students were very excited to see how easy it was.
"I enjoy the look of wonder," said Miller. "The 'oh, my gosh, that's really cool' look from the students is awesome. I want that look, and for kids the see the wonder science has to offer."
While many Michigan Tech students gave their time to show science to the younger students, the experience benefited them as well. "I think from the young students' perspective, it gives them the opportunity to see cool concepts and to better understand the world around them," said graduate student Adriano Rothschild. "For us, we benefit by developing communication skills which Michigan Tech students need. We have to explain concepts as simply as possible, which engineers need to know how to do."
"It is important for younger students to see what the fields of science, technology, engineering and math have to offer," Chadde pointed out. "There are many careers in the STEM fields that involve more than just sitting behind a desk, which is something not everyone knows," she added.
"We encourage students to do something they are passionate about and love," Chadde explained. "In order for kids to find that, they need to be exposed to it. That's really our goal: to give them [students] an opportunity to find out what they might really enjoy. We [the Western UP Center for Science, Math and Environmental Education and Mind Trekkers] are trying to encourage students to consider it [STEM] as a fun option. A lot of kids want to make a difference in the world, solve problems and make people's lives better. Events like the Science and Engineering Festival help them better understand what science and engineering is, and what jobs in those fields might entail, to dispel the misconceptions."
Michigan Technological University is a public research university founded in 1885 in Houghton, Michigan, and is home to more than 7,000 students from 55 countries around the world. Consistently ranked among the best universities in the country for return on investment, the University offers more than 125 undergraduate and graduate degree programs in science and technology, engineering, computing, forestry, business and economics, health professions, humanities, mathematics, social sciences, and the arts. The rural campus is situated just miles from Lake Superior in Michigan's Upper Peninsula, offering year-round opportunities for outdoor adventure.