Noyce Scholarships Turn STEM Majors into Science & Math Teachers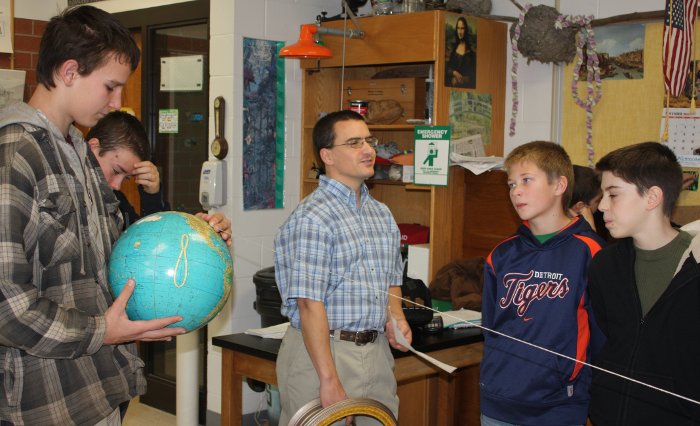 Technology is booming, and as a result, the need for better science and math teaching is too. Michigan Technological University students have the opportunity to help meet this need by taking advantage of the Robert Noyce Teacher Scholarship program.
The Robert Noyce Teacher Scholarship is a federally funded, National Science Foundation (NSF) program. It is designed to increase the number of excellent secondary teachers in science, technology, engineering and mathematics (STEM) fields and to strengthen academic performance in STEM disciplines of students in high-need schools. High-need schools are defined as districts that have at least twenty percent of their population, ages five to seventeen, living in poverty.
With national attention being drawn to the need for better preparation in STEM fields, teachers who have those skills are desperately needed. Although the need is seen nationwide, high-need schools are lacking the most, and therefore, the demand for strong STEM teachers is greater.
Bradley Baltensperger, chair of the Department of Cognitive and Learning Sciences at Michigan Tech, explains: "If we can identify the best and brightest science, math and engineering students who would make good teachers, then prepare them for their own classrooms, it leads more top-notch students into STEM majors and scientific and technical careers."
The Noyce program offers scholarships for STEM undergraduates and stipends for STEM graduates who are seeking a career change. For each year a student receives aid from the program, he or she is required to teach in a high-needs school for two years. If a Noyce scholar cannot fulfill the commitment to teaching, the recipient must pay the loan back to Michigan Tech.
Larry Hermanson is an engineering graduate who decided he needed a change and came back to become a teacher through a Noyce Scholarship. "The Noyce program definitely made it easier to go back to school," he says. "I considered getting a teaching degree about ten years ago, but it would have been pretty tough to support a family and pay full tuition." Now, he is a STEM teacher for Washington Island, a high–needs school in Wisconsin. Hermanson enjoys the atmosphere and states, "My teaching experience has been nothing but good so far."
Highlights of the program are: orientation and advising, seminar series, field experiences, summer workshop, student teaching, career placement and in-service support. In this program, Michigan Tech collaborates with, Saginaw Valley State University and Grand Valley State University, and the district schools of Saginaw, Mich., and Grand Rapids, Mich. Michigan Tech students in the scholarship program have done their student teaching at schools in Saginaw to get high-needs school experience with Saginaw Valley State University supervising.
Currently, Michigan Tech has had 19 students who have either received or are receiving this scholarship. Five students are teaching in schools, and six students are graduating this year. According to Baltensperger, "recipients are chosen on the basis of their application, an interview with Noyce program staff and faculty, and on the basis of their "fit" as potential secondary school teachers."
Nicholle Pierce, a 2013 Michigan Tech graduate, was a recipient of this scholarship as an undergraduate. She now teaches seventh and eighth grade math and chemistry at a high-needs school in Monument Valley, Utah. "Through talking with my colleagues and others in the district, I have realized that the Noyce Scholarship Program prepared me more than most other programs would have," she says. "I was taught many skills necessary for working in a high-needs schools. I also developed friendships with other Noyce scholars, and we are able to use each other as resources throughout the school year and summer as we plan our lessons."
Michigan Tech students can help support this education of high schoolers with strong STEM skills. . The NSF-funded program ends in summer 2015, but undergraduates and STEM graduates can still enter the program this year. Applications for next semester are due November 15.
For more information, contact Brad Baltensperger at brad@mtu.edu or visit the website: http://noycescholars.mtu.edu.
Michigan Technological University is a public research university founded in 1885 in Houghton, Michigan, and is home to more than 7,000 students from 55 countries around the world. Consistently ranked among the best universities in the country for return on investment, the University offers more than 125 undergraduate and graduate degree programs in science and technology, engineering, computing, forestry, business and economics, health professions, humanities, mathematics, social sciences, and the arts. The rural campus is situated just miles from Lake Superior in Michigan's Upper Peninsula, offering year-round opportunities for outdoor adventure.