Michigan Tech Scientists Verify Nanodiamond Discovery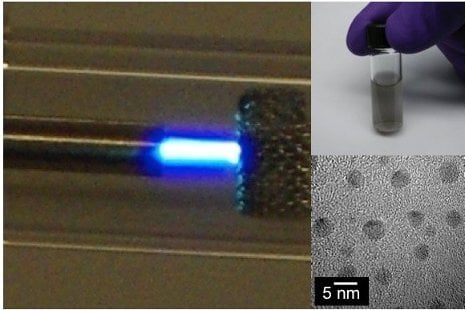 Diamonds, usually forged in overwhelming heat and pressure miles deep in the Earth's mantle, have now been made at atmospheric pressure and 100 degrees Celcius—the boiling point of water.
No one will be wearing these diamonds on their ring finger, however. They are nanodiamonds, just two or three nanometers across, invisible to all but electron microscopes. But their properties could be as alluring as crown jewels. Unlike the other form of carbon, graphite, diamond is a semiconductor, similar to silicon, which is the dominant material in the electronics industry, and gallium arsenide, which is used in lasers and other optical devices.
The discovery, by project leader Mohan Sankaran, associate professor of chemical engineering at Case Western Reserve University, was aided by physics professor Yoke Khin Yap and graduate student Boyi Hao of Michigan Technological University. Using ultraviolet Raman spectroscopy in Yap's lab, they confirmed that Sankaran's group had indeed made nanodiamonds.
The nanodiamonds are formed directly from a gas and require no surface to grow on. Their investigation is published Oct. 19 in the scientific journal Nature Communications. The discovery holds promise for many uses in technology and industry, such as coating plastics with ultrafine diamond powder and making flexible electronics, implants, drug-delivery devices and more products that take advantage of diamond's exceptional properties.
Case Western senior news and information specialist Kevin Mayhood contributed to this story. To learn more, see his Case Western Reserve press release.
Michigan Technological University is a public research university founded in 1885 in Houghton, Michigan, and is home to more than 7,000 students from 55 countries around the world. Consistently ranked among the best universities in the country for return on investment, Michigan's flagship technological university offers more than 120 undergraduate and graduate degree programs in science and technology, engineering, computing, forestry, business and economics, health professions, humanities, mathematics, social sciences, and the arts. The rural campus is situated just miles from Lake Superior in Michigan's Upper Peninsula, offering year-round opportunities for outdoor adventure.