Peace Corps Master's Student Tackles Water, Waste, Volcanoes, Earthquakes in Panama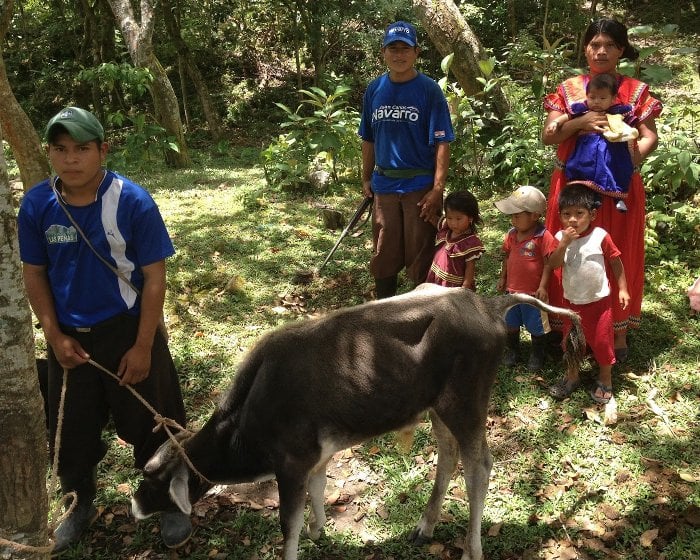 To the people of Peña Blanca, Panama, Chet Hopp must seem like a godsend. He's helping them get cleaner water, improve sanitation and understand their local volcanic hazards.
"I'm an environmental health extensionist, which means that my main responsibilities to my community of Peña Blanca deal with sanitation," says Hopp, a Peace Corps Master's International student in geology at Michigan Technological University. "Specifically, we work to improve access to potable water through development and construction of gravity-fed aqueducts, as well as improving sanitation practices through education and access to various types of latrines."
From the beginning, Hopp says, the priority has been latrines, although the water system does concern many in the community. He gives talks on sanitation practices, as well as how to properly construct and maintain the latrines they are building.
And, there's buy-in, literally, from the locals.
"Each participating family is required to make a $5 deposit, to be returned upon successful completion, and they must pay for half the cost of corrugated metal roofing," Hopp says. "There are other roofing options, though, so they can opt out of this."
Hopp describes his locale, Peña Blanca, in the district of Muna, as a "comarca," roughly the same as an indigenous reservation in the US. He lives with the Ngöbe, who secured their reservation in 1997, but despite their recent efforts to gain a voice, continue to live in extreme poverty.
Here, government agencies should be able to help, Hopp says.
"The idea is to also teach community leaders how to interact with government authorities, which could be helpful with future projects," he explains. "The typical problem in the Comarca is that the Ngöbe are far too shy to even attempt to approach a government agency, especially since the offices are always located outside of the reservation, an area in which they are visibly uncomfortable and incredibly shy."
On top of that, Hopp adds, a mutual dislike (bred by misunderstanding) has developed between Latinos, who are usually in charge of the agencies, and the Ngöbe, making it even less likely that they would approach the government for help.
"As if this weren't difficult enough, the agencies are perpetually understaffed, a typical developing world problem, I assume, and therefore the communities are hardly ever made aware of their presence."
There is some good news, however. The ministry of health (MINSA or Ministerio de Salud) comes monthly to deliver vaccinations and medical care, Hopp says, so the Ngöbe are aware of their presence.
"But the division of MINSA working with infrastructure—latrines and aqueducts—is committed to the largest and most accessible communities, not where most Peace Corps volunteers live, so our communities are very rarely aware of their presence and the benefits of working with them," he says.
And the technicians employed by MINSA are a mixed bag, he says. "Some are quite worthless, having no passion for what they do, and some are incredible people who go well out of their way to help both volunteers and their communities. I've worked with both."
As for the third focus of his time in Panama, volcano research, Hopp is working with a private geophysics consulting company, OSOP, to collect seismic data on the country's most prominent volcano, Baru. The Panamanian government, through a contract with OSOP, tried to establish a seismic monitoring network on the volcano a number of years ago after a great concentration of earthquakes, "but after activity quieted, down the funding dried up, and the network descended into disrepair," he says.
"In reality, although the local population often believes the opposite, no one has much of an idea what the volcano is doing, with the exception of the earthquakes which occur monthly," Hopp says. "It would be especially interesting to see if these events are being caused by some sort of volcanic process such as gas movement or some other fluid, or if they are more closely related to 'standard' tectonic seismicity caused mostly by stress due to plate movement. It is also possible that they are caused by a combination of both."
The good news for Hopp is that all eight of his seismic stations appear to be working properly. And he hopes to prove the possible volcano-earthquake connection in the small earthquakes that occur multiple times a month.
"If this is shown, then the Panamanian government might reconsider funding the project," he says. "Until then, the future is unknown."
As for life after Panama, that involves the unknown too.
"I will leave Panama in June or July of 2014 and will return to Tech to write and defend my thesis," Hopp says. "After that, I'm not sure. My current priorities as a Peace Corps volunteer hardly line up with what my priorities will be when I finally get back to the US. It's hard to say exactly what direction I will want my life to take, when all I need for happiness right now is air conditioning and a Quarter-Pounder-with-Cheese. I suspect at some point the decision will come down to the age-old 'academics vs. private sector' debate. I don't really have a preference."
Michigan Technological University is a public research university founded in 1885 in Houghton, Michigan, and is home to more than 7,000 students from 55 countries around the world. Consistently ranked among the best universities in the country for return on investment, Michigan's flagship technological university offers more than 120 undergraduate and graduate degree programs in science and technology, engineering, computing, forestry, business and economics, health professions, humanities, mathematics, social sciences, and the arts. The rural campus is situated just miles from Lake Superior in Michigan's Upper Peninsula, offering year-round opportunities for outdoor adventure.