Teachers Learn to Bring Global Change to Life in their Classrooms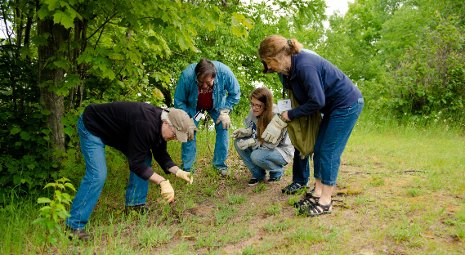 Nine middle and high school teachers from Michigan and Illinois are back in class themselves at Michigan Tech this week, learning about global changes—including climate change—and ways to bring the issues to life in their classrooms.
The global change institute is one of three Summer Teacher Institutes that the University is offering this year. Participating teachers will receive two graduate credits from Michigan Tech. The institute is hosted by the School of Forest Resources and Environmental Science with Professor Andrew Burton as lead faculty member.
In addition to learning about global changes including climate, ozone, carbon dioxide, exotic species, nitrogen deposition and land use change, the teachers are examining common misconceptions about climate change.
The institute includes field trips and hands-on activities, including visits to an ecosystem warming experiment at the Ford Forest and Pequaming peatland; an experimental system called a peatcosm at the US Forest Service's Northern Research Station in Houghton, where scientists are studying the effects of climate change on plants in nutrient-poor peatlands; a Michigan gradient chronic nitrogen deposition site; and Porcupine Mountains Wilderness State Park.
The teachers will wind up the week by discussing ways to engage students in understanding global change.
The first teacher institute of the summer focused on Great Lakes watershed investigation. It took place June 24-28. Two more institutes are scheduled. Teachers will explore forest management and resources from July 15–19. A maritime transportation and ship-building institute is scheduled for July 22–26, based in Green Bay, Wis.
For more information, contact Joan Chadde, jchadde@mtu.edu.
Michigan Technological University is a public research university founded in 1885 in Houghton, Michigan, and is home to more than 7,000 students from 55 countries around the world. Consistently ranked among the best universities in the country for return on investment, the University offers more than 125 undergraduate and graduate degree programs in science and technology, engineering, computing, forestry, business and economics, health professions, humanities, mathematics, social sciences, and the arts. The rural campus is situated just miles from Lake Superior in Michigan's Upper Peninsula, offering year-round opportunities for outdoor adventure.