Performers Spread their Wings on Stage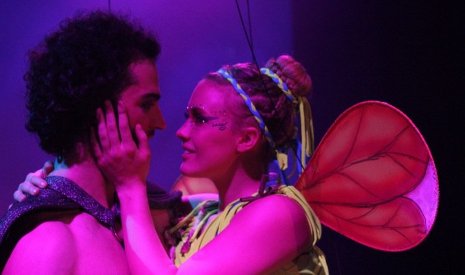 What happens when you put engineers, flying dancers and silk together on a stage? You get a whole new—and beautiful—kind of theatrical production. Beautiful, running June 19–21 at the Rozsa Center for the Performing Arts, combines aerial and flying dance routines with a more traditional theatrical production.
The show is the culmination of the Beautiful Intensive, a three-week traveling workshop that trains performers in dance, aerial dance and flying. Beginning with a production in southern Florida that received rave reviews, the Intensive was created to further develop the show.
Performers from across the country auditioned. The best then traveled to Michigan Tech for training and to put on the show, including lead actor Ottavio Taddei and lead actress Nicole Conley. .
Beautiful tells the story of how the butterfly grew her wings—both literally and metaphorically. Since the show does not contain dialogue, the performance relies on movement, music and sound effects to tell its story.
The show's journey to the Rozsa stage began at the Kennedy Center American College Theatre Festival, where Michigan Tech students made an impression with their prowess in operating a flying dance project. Among festival attendees was the director and co-creator of Beautiful, Jennifer Kelly.
"She said she was wowed by the number of students from Michigan Tech who are experienced at operating flying track systems," said Kalen Larson, assistant professor of theatre. It was the students' skill, paired with Michigan Tech's ability to provide unparalleled technical support for productions, that brought the Beautiful Intensive to Houghton.
"Flying shows are 50-50 between STEM (Science, Technology, Engineering and Math) and artistry," Larson said. "The track systems that make flying possible on stage need to be carefully engineered for safety and functionality. We had to find out what the director envisioned and then do the math to create a flying system that worked."
What the audience sees on stage is the culmination of four weeks of hard work and attention to detail. "Flying shows have more limitations to work around," Larson explained. "At one point we have this fantastic moment when eight people are on cables at once. Every step has to be carefully planned so they don't get tangled."
A student crew including Chris Trevino, Austin Guess, Josh Maiville, Cambry Wade, Devin Miller, Jess Hammersley, Kier McCartney, Matt Willett, Tyler Harry, Thom Sullian and Alison Pittsley knew the flying actors and dancers' lives were in their hands, There could be no missteps or missed cues.
All this careful planning has created a show that offers something different for the Houghton community. "This is a whole new thing for people to experience. The production isn't quite ready to tour on a national level yet, but if it were, it probably wouldn't make it up here," said Larson. "This is a unique chance to see the show in its developmental stages."
In addition to offering a unique experience for the local community, the production gives visual and performing arts students experience that goes beyond the classroom. "Operating a flying system is like being a dance partner," Larson said. "The backstage techs need to have a very different connection with the performers because all of the track systems are manually operated."
The operators' training and experience has not gone unnoticed by the show's creators. "The students that we've worked with here are so skilled. I was surprised to learn that they were undergraduates because they work with the proficiency and skill of graduates," said co-creator, producer and flying choreographer Jason Whicker.
Some of the performers were first-time fliers. "This was my first time being in the air," said David Morton, a performer from the University of Cincinnati.
"Trying to do flips was really scary at first, but now it's the complete opposite."
Others had flown before and were happy to return to the stage skies. "My favorite part is the relationship between the performers and the operators," said Kristen Noonan, a performer from Louisville, Ky. "What they're doing backstage is almost more important than what we're doing on stage. Those guys are boss."
Noonan plays the role of Beautiful, the production's protagonist and female lead. Morton plays her counterpart, Ronan, a fierce warrior and show's male lead.
Michigan Tech's aerial efforts debuted in February with Stealing Fire, a flying dance show that told the story of how Zeus and Prometheus created the creatures of the world. "This is even bigger. There's constant flying, silk work, and everyone is in the air—there are moments that are breathtaking," said Larson. "There's really no way to prepare yourself for this."
Michigan Technological University is a public research university founded in 1885 in Houghton, Michigan, and is home to more than 7,000 students from 55 countries around the world. Consistently ranked among the best universities in the country for return on investment, the University offers more than 125 undergraduate and graduate degree programs in science and technology, engineering, computing, forestry, business and economics, health professions, humanities, mathematics, social sciences, and the arts. The rural campus is situated just miles from Lake Superior in Michigan's Upper Peninsula, offering year-round opportunities for outdoor adventure.